I have been a Bare Minerals user for about seven years. Up until then, my makeup routine basically consisted of pressed powder (maybe), a thin layer of either pink or peach shadow on my lid, mascara on my lashes, and clear lip gloss.
I had never even heard of Bare Minerals before I walked into Sephora that day. A makeover later, and I was walking out with the foundation starter kit and the eye starter kit. Things were much different back then, but basically I got everything I needed to start practicing my Bare Minerals look. Two colors of the original foundation in light and extra light, Warmth, Mineral Veil, a liner, three shadows and a variety of brushes. I was set! If you have been reading along with my blog, you have obviously come to the conclusion that I am a huge fan of the Bare Escentuals cosmetic line. In all fairness, I haven't tried any other mineral makeup except for the baked Mineralize Eye Shadows that MAC manufactures, so I am rather biased towards Bare Escentuals, but truthfully, I just really like mineral makeup. It works so well with my skin. I don't feel like I'm wearing a mask, it doesn't rub off on my clothes or my hands, and it doesn't bother my eyes. The eye shadows blend and work together so well that you can pretty much pick any combination, pair it with a liner, and they are going to work together and blend together to look fantastic. One of the things that I don't like about it is that it can be quite messy since they are loose powders, but over the years, Bare Escentuals has worked to create a line of pressed foundations, cream foundations, pressed eye palettes, eye pencils, and all kinds of different things to make putting it on easier and cleaner without losing that mineral appeal. I have invested in the eye shadow loose powders, so that is what I use at home, but I have a variety of the pressed items (such as the Duos) for traveling which are divine. You will be seeing a review of the new serum foundation coming from me in the future as I have two samples that I plan to try and review. My mother just switched from the original loose foundation to the serum, and she is very pleased with it, so I think that when the weather cools down in Texas in the fall, I may just be buying my first bottle of liquid foundation since my preteen years.
But today, I am reviewing a product that actually was released a number of years ago called Well-Rested Eye Brightener. I can't tell you how many times I have been shopping for a concealer and picked this one up at the boutique, ULTA or Sephora, and then put it back down again. For some reason, the yellow color always made me shy away and buy one of the beige concealers instead. I have inherited some poor eyes from my mother's side of the family, and with that comes very pronounced circles under my eyes that are a very delicate pale shade of lavender. Throw in some stress, a few nights of less than perfect sleep or a good cry, and it's a disaster. Up until now, I have been using the regular concealor in Bisque for the winter months and Summer Bisque for the summer months. However, with my crazy sleep schedule after my foot surgery, my circles are so purple and the bags so pronounced I could make a set of Louis Vuitton suitcases.
So, after many years of working with the regular concealer (which by the way is also a fantastic product), I finally walked into a boutique a few weeks ago with my coupon for my birthday eye shadow in hand, picked up Well-Rested, and BOUGHT IT at long last. What will really throw you if you put it side by side with one of the concealers is that Well-Rested is definitely a yellow tinted powder, whereas the concealers are beige and well, look more like concealers. But there is a reason for this...the yellow is there to counteract the purple color and brighten your circles so that when you use it, you clearly have a look on your face that suggests youth and happiness, and best of all, gives the appearance that you slept a full eight to ten hours the night before...even if you have not. And it has sunscreen in it which is always a plus.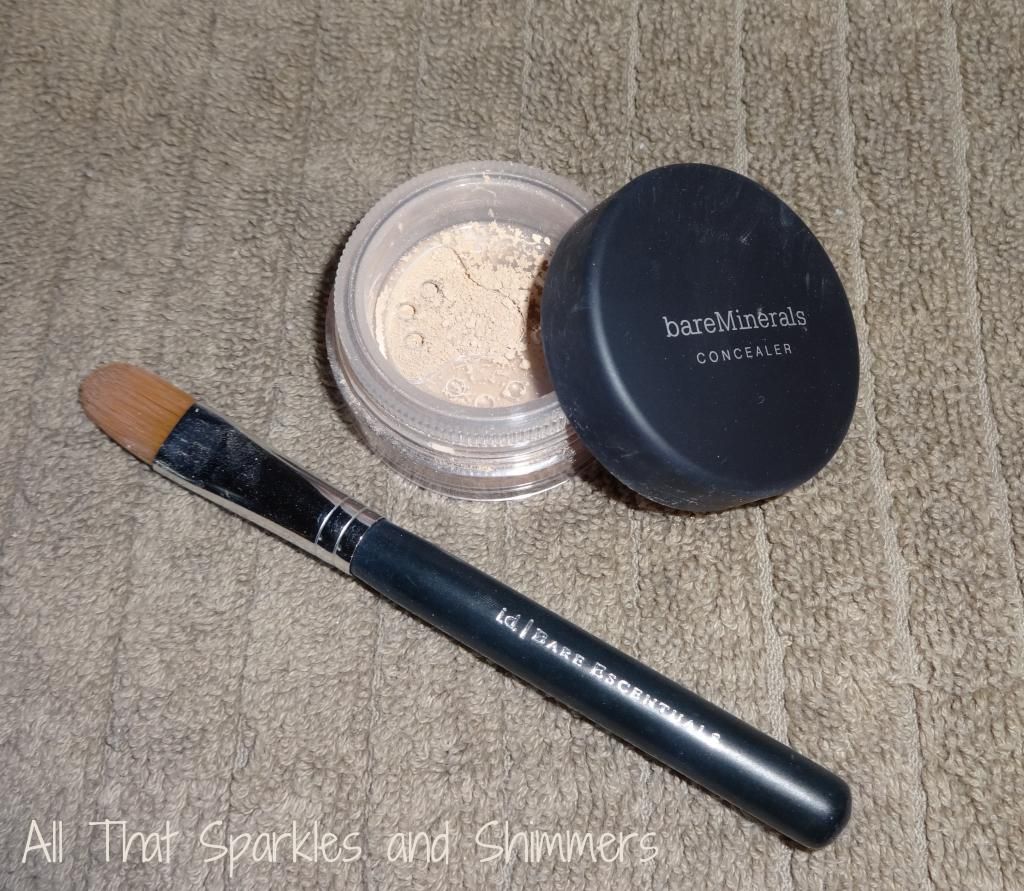 I was taught how to use it by the lady at the boutique the day I bought it. It obviously works very well in conjunction with their signature foundation products in loose powder form. I will report back when I try it with the serum, but since it is a concealer that is recommended to be put on over your foundation instead of under, I can't imagine that it wouldn't work well. To put on my face with Well-Rested, I used the Maximum Coverage Concealer Brush with the Well-Rested, the Soft Focus Face Brush, Mineral Veil and and the Original Foundation in Light.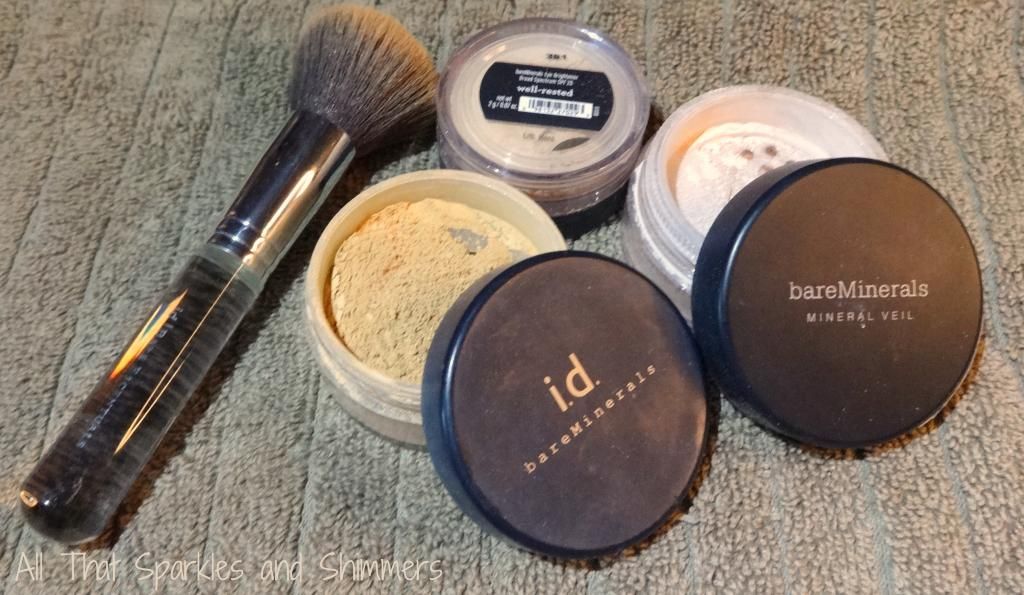 If you are a mineral makeup user or have seen a Bare Minerals demonstration on QVC or a makeover at the store, you are most likely familiar with the basic process. If you are not and are curious, I can't recommend enough heading to your nearest store that carries Bare Minerals and asking for a demonstration. It is also a great way to get a color match for your foundation. You pick up product on your brush and drop it into the lid of your foundation. You swirl the brush around in the product to get it in the brush. You tap the brush on the side of the lid and then start applying the foundation in a circular movement starting at your temples and moving down your cheeks and nose and ending at your chin. I always start at the top of my face because this is a loose product and it will sprinkle downwards onto your face. Once you have the desired effect, take your concealer brush, pick up some of the Well-Rested and apply it in dabs under your eyes. I apply mine right to the line between the apple of my cheek and where the circle begins and use my brush to blend it into my foundation.
I have used Well-Rested several times since I bought it and there have been a few times where the product doesn't blend in perfectly into my foundation. I can almost see a white spot. It always brings up thoughts to me of all the pictures in the media of celebrities who have been photographed with their white powder reflecting the glare of the flashbulbs. Obviously, I'm not walking the red carpet anytime soon, but whenever I notice this being a problem, I use my ring finger (the weakest finger so it doesn't pull on my skin) to just lightly blend it out. If needed, I will swirl, tap and blend another small amount of foundation under my cheeks, but then one coat of Mineral Veil and I'm done.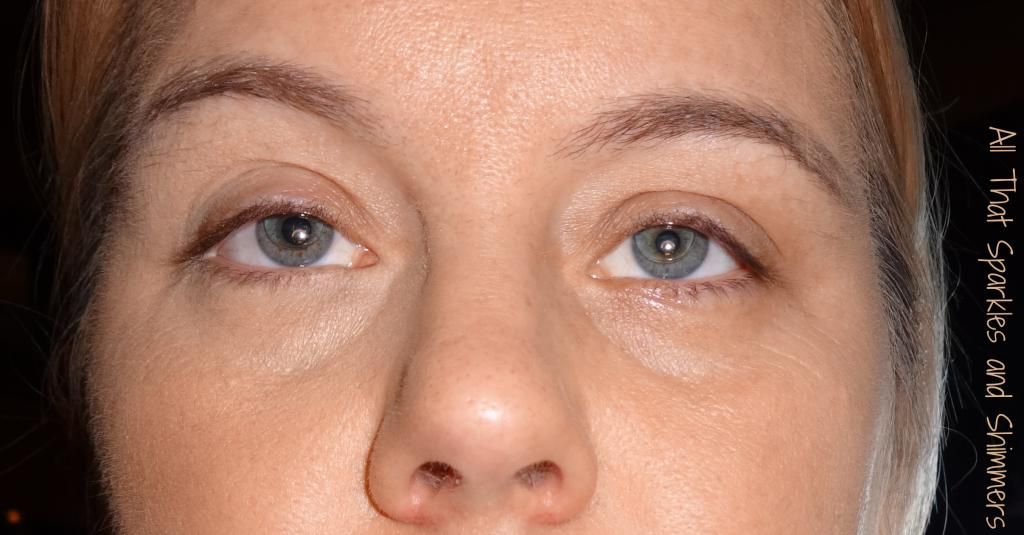 My right eye is the one with Well-Rested. My left eye just has foundation applied.
So that's it! You don't need a lot to get rid of the circles, so the size of the container will last you quite a while. I don't anticipate having to replace mine for several years. The beauty for me with Bare Escentuals makeup is that since it is mineral, it is not going to go bad like other products do, so I never worry about bacterial growth or mold. Just keep your brushes clean, keep your lids tight and you're good to go.
Well-Rested retails for $18 online, at the boutiques, and you can also purchase it at Sephora, ULTA and just about anywhere that carries Bare Escentuals. Keep in mind that ULTA does consider Bare Escentuals a Prestige cosmetic so unless you have a B.E. specific coupon, those fun coupons on the bottom of the flyers aren't going to work.
Enjoy, happy tapping and thanks for reading!