It's amazing to reconnect with old friends and find out what they are doing twenty years later. I was invited to an online shopping party several weeks ago on Facebook hosted by two of my old friends. After a little chatting and instant messaging, I reconnected with an old friend from high school and college, Amanda, who I discovered is a Jamberry Nails consultant as her second job.
First of all, with over 400 bottles of nail polish, I have accepted that my nail destiny (if such a thing exists) is lacquer on natural nails. I've tried fake nails and acrylics, and hated them both. So normally I wasn't that intrigued at first by the nail wraps. However, from what I have heard about these wraps, people really seem to love them, and they are a convenient and durable alternative to complicated nail art and a cost-effective alternative to having your nails done up all fancy at the salon. Jamberry Nails was founded by three sisters who decided to start this company as an alternative to spending lots of time and money at the salons on manicures. The product has been featured in a number of magazines, and is available in so many designs and colors, I didn't even attempt to count. Each design is $15 per sheet, which includes a variety of sizes and shapes to be able to fit your toes and fingers. Application appears to be very simple and there are detailed instructions on the website. The only equipment needed is a cuticle pusher, alcohol wipes, a hair dryer and a pair of scissors for trimming the wrap. It is a very cool and fun alternative to painting your nails! With Amanda's permission, I am quoting a testimonial from one of her customers who is a nurse after she tried a sample: "It still looks great after one week of working in my flower beds, and washing my hands 100 times a day as a nurse. I am impressed."
To share, I have a picture of toes from my old friend Lisbeth, who hosted the party and is also very happy with the product. This picture was taken five days after application.
After Amanda posted that Jamberry Nails sells a line of lacquer, my ears perked RIGHT up. After examining the line of polishes, I settled on
Mahogany
. I really love brown polishes. They are so unique, they range in spectrum from glittery bronze to melted chocolate to espresso shades, and they look great with just about everyone's skin tone.
My review today is going to be primarily on the lacquer as I have not tried the wraps; I also purchased the
Matte Finish Top Coat
which will be reviewed as part of an article that I am working on to compare the top lacquer manufacturer matte toppers, so watch for that article if you are a matte finish fan.
The Professional Nail Lacquer sold by Jamberry Nails is 5-free (meaning that it is free of the top five chemicals used in nail polishes that can be harmful to your health). Nail lacquer is a paint. Long-term exposure to the fumes if it is loaded with chemicals isn't going to be good for you. If you gave me a smell test with my older polishes against my newer 3-free and 5-free polishes, I would win every time, because the older polishes smell very, very strong, whereas the newer 3-free and 5-free polishes, like Zoya, have a very slight smell and aren't as strong. 5-free means that it is free of dibutyl phthalate (DBP), formaldehyde, toluene, formaldehyde resin and camphor. Now, why is this important? That honestly depends on you. If you are pregnant, using your nail polish on your children, have respiratory issues or allergies, this is something that very much could be important to you. I recommend that if this is something that is a concern for you, you research it on your own or discuss with your doctor. For me, I honestly prefer the 3-free and 5-free formulas because they just don't smell as bad. The health issues with inhaling these chemicals, I would think, are more of an issue for factory workers that are working with this formula all the time, and not so much for the end user that is spending probably ten minutes or so inhaling the chemical. I probably harm myself more by inhaling my pure acetone nail polish remover. As for formaldehyde, I make sure that I have my fan on when I am polishing and I'm not allergic, so it's not an issue for me personally, but if you are allergic to formaldehyde, a 5-free formula is a good thing for you. I invite you to read this article if you are interested in more information on the chemicals used in nail polish and how it can affect you.
Another benefit to Jamberry Nails is that it is cruelty-free or CF for short. I just recently learned what this means in terms of nail polish, and honestly, I would rather not get into the details on my blog. It's extremely horrifying when you learn what nail polish manufacturers do to test their products on animals, and it is your personal choice on whether or not you choose to continue supporting those manufacturers. I have chosen not to. If you are interested in reading more about cruelty-free lacquers and cosmetics, I invite you to check out this article on the PETA website where you will find out more than you ever wanted to know about cruelty-free beauty products. All That Sparkles and Shimmers will have an article discussing cruelty-free cosmetics and nail polishes in the future, so if that is something that interests you, stay tuned.
However, for the purposes of this article, Jamberry Nails are 5-free AND cruelty-free, so it's a win-win in both categories!
Appearance
Mahogany makes me think of melted chocolate with a shimmer. The first thing I pictured when painting my nails was the chocolate river in Willy Wonka and the Chocolate Factory. It is a beautiful rich brown with a continuous shimmer running through it that picks up the sunlight and sparkles delightfully.
The first thought that I had when I was painting my nails with this wonderful formula was how comparable it was to the butter London lacquer formula, which is the priciest lacquer that I own. I often laugh that the butter in butter London is because the polish applies like butter...and it was the same with Jamberry. It is very silky, rich and thick, but not so thick that it is hard to work with and needs thinner. If you are a person that likes one-coat polishes, this is a good polish for you as it was truly opaque in one coat. I chose to apply two because...well, that's my routine! I also like to have two coats of lacquer on my nails to prevent breakage. But I really could have easily stopped at one coat.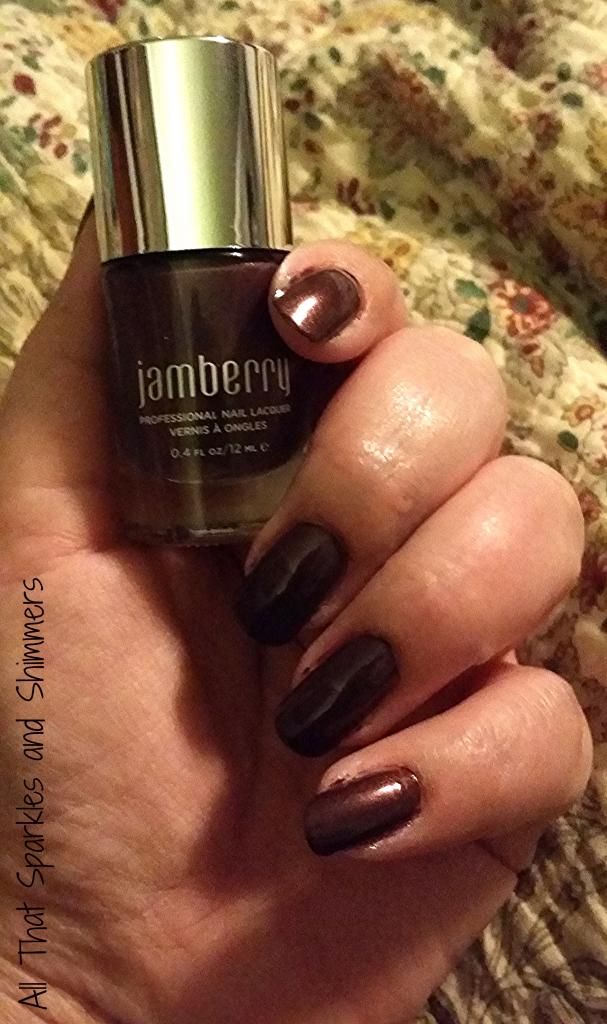 The thing that impressed me the most regarding application was how this formula worked with corrections. I accidentally bumped my ring nail after the first coat and moved the lacquer before it had set. It was a pretty big smudge and I wasn't sure if I was going to be able to correct it, but I was able to move the smudge back in place with the tip of my tongue (gross, I know, but it works for corrections) and a wet fingertip. After applying the second coat, the lacquer absorbed the first coat's imperfection and the result was a silky coat that you could not even tell had been disturbed.
Several days later, I tripped and hit my right hand on my footboard to catch myself, the uncoordinated chickie that I am. Not only did this polish keep my fingernail from breaking (which is what I anticipated), but the chip was very, very small indeed. I needed to correct it before I left for the day since I'm a nail biter and tend to pick at my polish if it's in my eye line, and a white spot on a brown nail is very noticeable. I corrected the chip by placing a dot of Mahogany on the chip, letting it set for a few seconds, and then applying a coat on the entire nail. It was as if it was never there.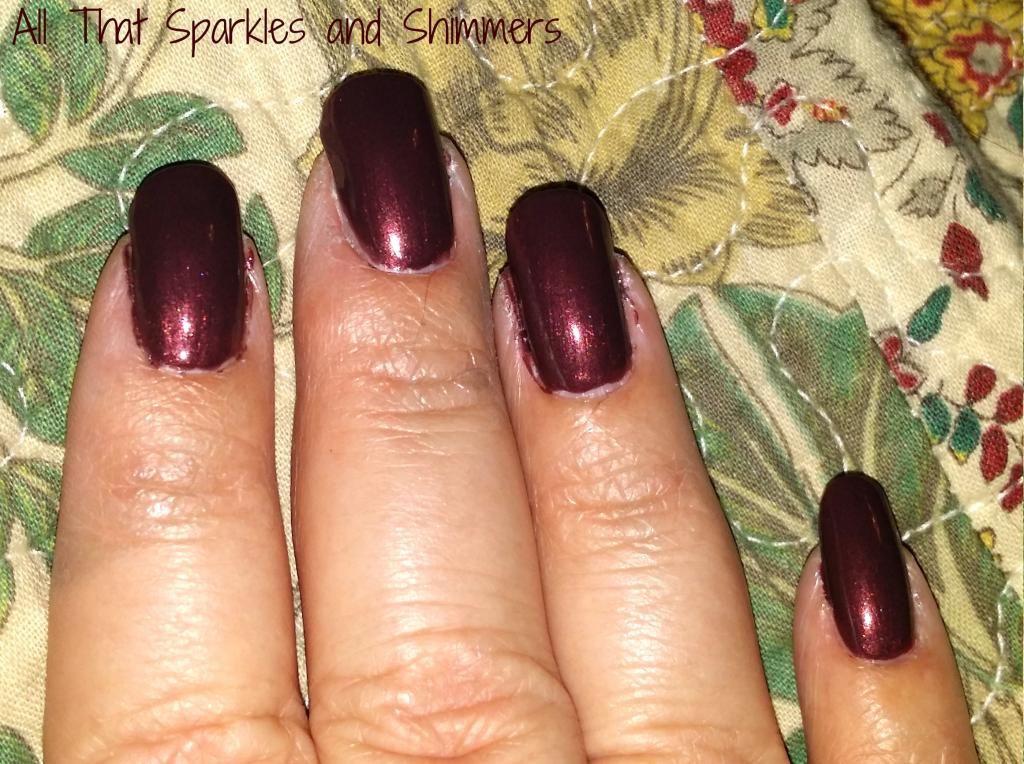 I would have loved to have left this polish on and see how long it went without any polishes, but I like to change out my color every few days. However, I kept a close eye on this one and with the except of the afore-mentioned klutzy moment, this polish did not chip or wrinkle or blemish with ordinary everyday wear and tear in the four days that I wore it. I applied it over Quimica Alemana and topped it with two coats of Jamberry Nails Matte Finish Top Coat. Amanda mentioned to me in our conversations that she has worn Cardinal by Jamberry Nails and it went a whopping six days without any chips or blemishes without a base or top coat...which is impressive as she is a realtor and on the go a lot! I would venture to guess that if I had left mine on, it would have gone for at least a week or two with no tip wear or chips.
Removal
I removed it with regular cotton balls and acetone remover, and it wiped right off with no staining or resistance.
Where to Buy
You can not get Jamberry Nails anywhere but online. I hadn't heard of it until I was invited to the online party, and it's only been around for a few years, so I doubt you'll be seeing booths at craft fairs or malls like you do Scentsy anytime soon. However, if you are interested in giving it a try, it is available through my friend Amanda's website at JamminAmanda.JamberryNails.net. There are eighteen lacquer colors, several packages of colors that you can order cheaper than ordering the colors individually, two base coats, one top coat and three special-effect top coats including the afore-mentioned Matte, a Stardust and a Glitter. It is on the expensive side of nail lacquer at $15.00 a bottle, and the only polish in that top shelf category I have to compare it to is butter London. My opinion? It is every bit as good of a formula as butter London, if not better due to the correctability that I mentioned and the durability, and if you are looking for some good quality lacquers to add to your collection that are going to last, that look great and that are safe to use, Jamberry Professional Nail Lacquer might just be the lacquer for you.
Thank you for reading and happy polishing!