In my blog readings late at night, I came across an interesting blog, The Small Things Blog, written by a lady in North Carolina named Kate, which is where I am from as well. So far I have really enjoyed reading her blog, and of course, the references to all things North Carolinian (except for the post about Duke...sorry, Kate, I'm a Tar Heel and bleed Carolina blue).
Her blog brought to my attention a sweepstakes that Sonia Kashuk is sponsoring for a $100 giftcard to Target. I had not tried this makeup yet since I'm a die-hard Bare Minerals user, but as I've stated before, I love free things (I bet you do too) and I am always willing to try new things. Plus, $100 buys a LOT of things at Target...food, clothes, shoes, makeup, and....nail polish, my favorite! Target carries OPI, Essie, Nicole by OPI, Sally Hansen and a number of other nail polish and cosmetic brands.
To enter this sweepstakes, please visit Kate's blog entry regarding Sonia Kashuk's products here. You can also learn more at soniakashuk.com and visit the Sonia Kashuk page at target.com.
Please note that a comment left on THIS blog will not generate an entry into the sweepstakes. YOU MUST GO TO THE SMALL THINGS IN ORDER TO ENTER. I am simply sharing this contest with all of you, and by blogging about it, I also get an extra entry into the sweepstakes and I get the chance to share my new blog on a more well-known blog. The internet is a big place and there is plenty of room for everyone. The sweepstakes started on May 5 and runs through June 30, so if you are reading this article late (I'm obviously posting it late), not to worry! You have plenty of time! Just click on the link above, leave a comment in response to the sweepstakes/giveaway along with the Sonia Kashuk product that you are most interested in trying this spring (I'm interested in the
ultra luxe lip gloss in polished plum
), and you're good to go! You can also get an extra entry by tweeting about the sweepstakes if you are on
Twitter
or blogging about the sweepstakes if you have a blog of your own. I am on Twitter at @ATSaShimmers and would love for you to follow me there. If you do read my blog and have a blog of your own, please leave the link to your blog in the comments so I can read your blog as well. The official sweepstakes rules are listed here on The Small Things, and include different ways that you can enter the contest.
However, I can't in good conscience promote a cosmetic line that I haven't tried myself, so I went to Target to check it out and the thing that jumped out at me the most was...well, everything!!! I was amazed that I have never come across this line before in all the times that I have gone to Target. Mind you, it wasn't obvious. I went up and down the aisles a few times and then, bam!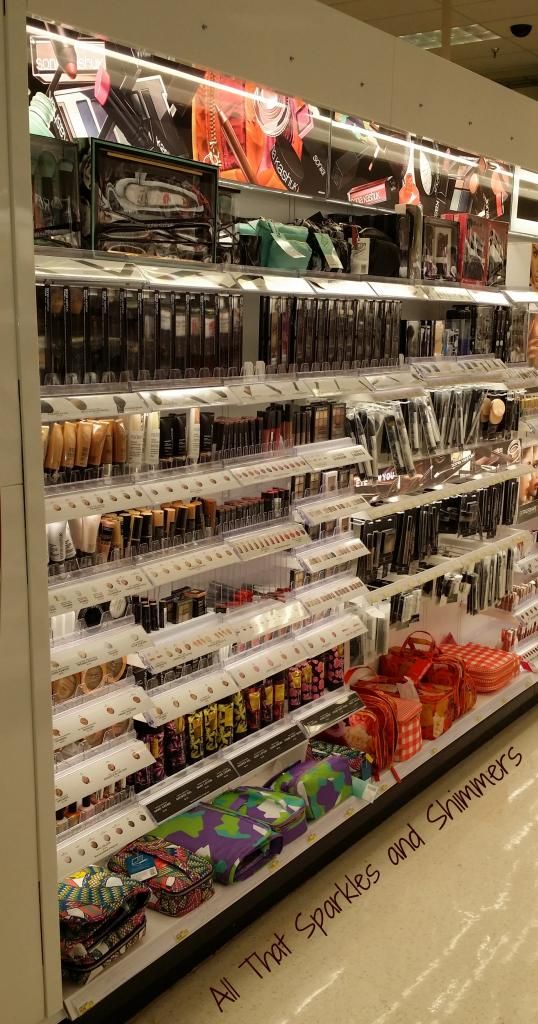 I was truly amazed at the selection. There was everything to look at from train cases to mascaras to foundations galore to lipsticks and lip glosses...even a tiny line of nail lacquers.
I'm not big enough yet that I'm getting products to review for free, so I bought what I thought I needed and would be a good addition to my collection. That's why, at least for now, you are not going to see the latest things reviewed here, because right now we are reviewing what we like and what works for us. So once my eyes stopped bugging out and I settled down and got serious, I ended up buying the Extreme Wear Eye Primer for $9.99. It was a very close call though...the red lip gloss almost won, but I kept reminding myself how I have lots of red lip glosses but not too many eyelid primers. And for some strange reason, I don't use them that often...really only on special occasions. I have Too Faced Shadow Insurance that I got as a birthday gift from Sephora and two tubes of Prime Time Eyelid Primer from Bare Escentuals. What I remember the most from using the ones that I have is that they smooth out my eyelid prior to applying eye shadow and hold the shadow firmly in place until the end of the night when the eye makeup remover is swiped on.
The reviews on this were about 50/50. One person said that the texture wasn't very smooth; another didn't like the shape of the container that required the use of a tool to get it out. I agree that it is a little odd to have primer in a small jar when most eyelid primers are in tubes that you squeeze onto your ring finger and then smooth onto your eyelid, but this is a unsolicited candid review. Initially I thought about using a mix of products to sample this, but in the end, I decided to just stick with what I will be using this most with which is my favorite, Bare Minerals.
First, I started with a clean eye and a clean brush. After examining the size of the container and the consistency of the primer, I decided to use a tapered shadow brush to pull out some primer and apply it to my lid, sweeping gently over the entire lid and up into the brow area where my highlight shadow is applied. It is a tad pasty and requires a little bit of patience to work with it.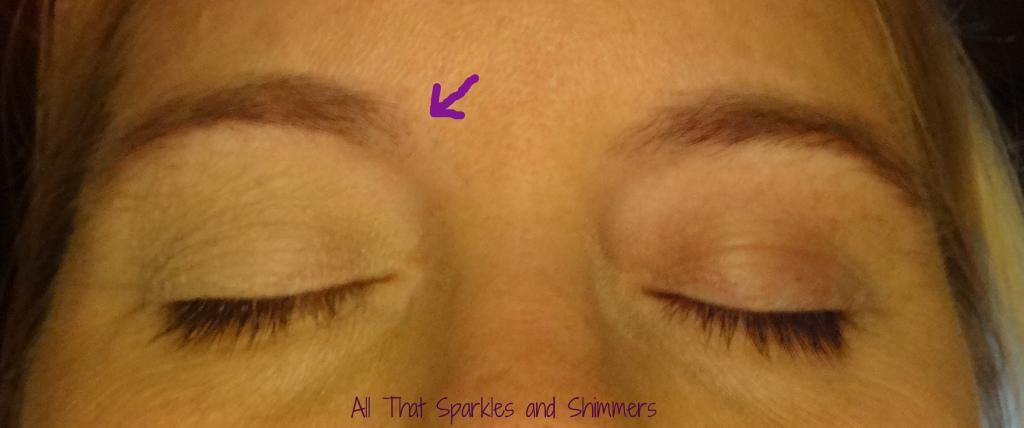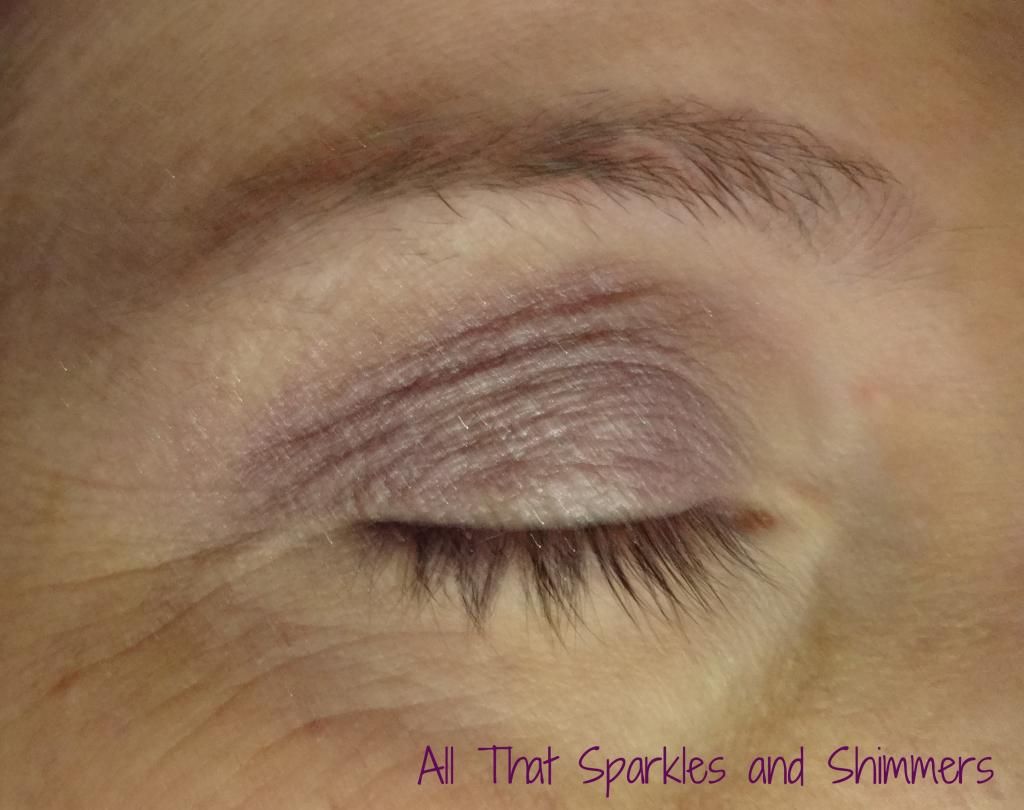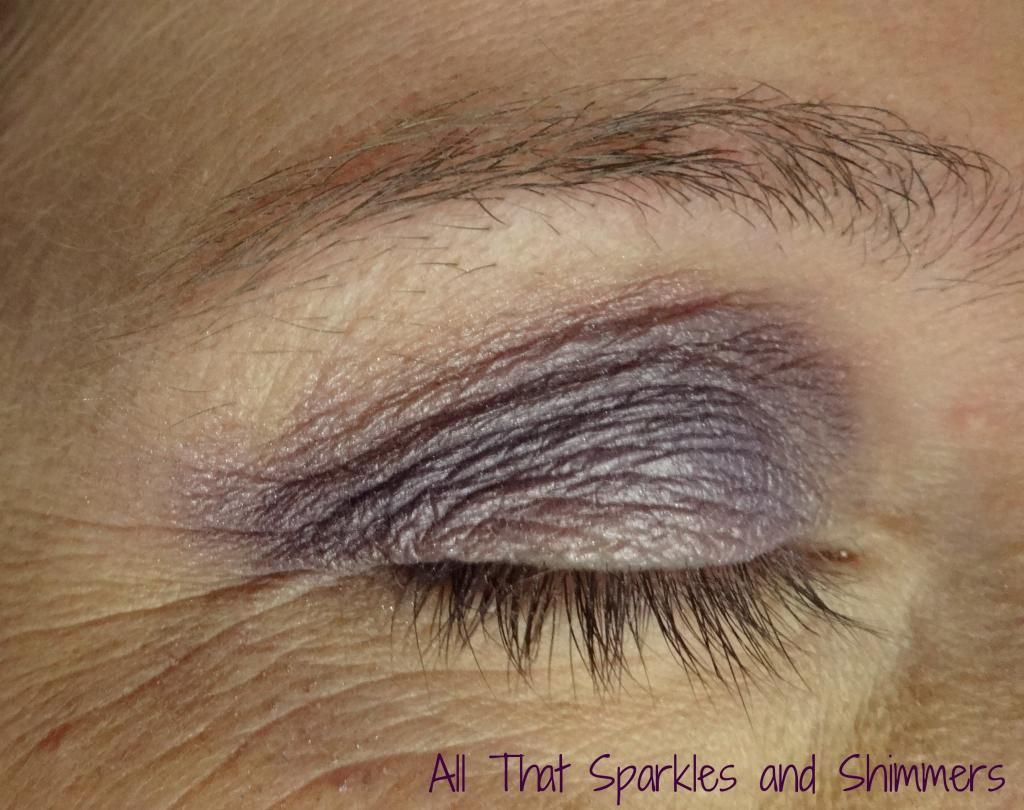 Last, I applied liner (wet) and mascara. I used Sugar Plum with a liner brush, topped the liner with Urban Decay glitter eyeliner in Metal Head for extra pizazz, and curled and applied Lash Domination mascara to my upper and lower lashes.
I then repeated the same on the other eye but without the primer. In the picture that you are looking at, the eye with the X above it is the one that has the primer used with it.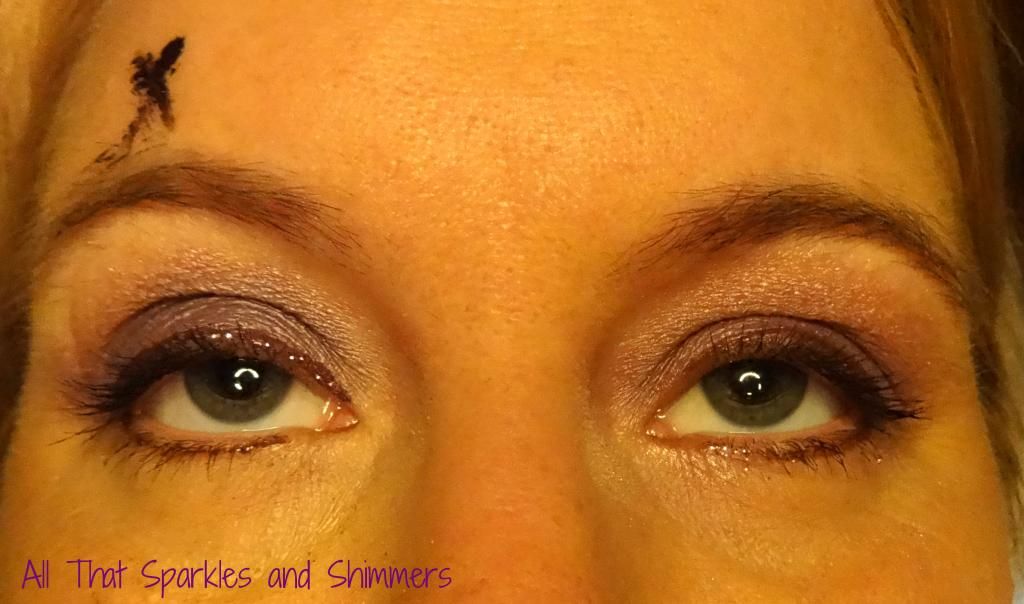 My thoughts? It's a very mixed bag. I honestly don't know if the mixed result I got was because of the product, because of my age, because I didn't use it with Sonia Kashuk shadows, or because I applied too much. If it was because I didn't use it with the same line of shadows, that's disappointing since you should be able to mix products and have each product stand on its own. I'm very loyal to Bare Escentuals, but I have eyeshadows by ULTA, MAC, and Julep in my collection. I don't know any woman that is exclusive to one line of cosmetics. The colors were so vibrant and bright, which was awesome. I loved that part. The colors blended well together but the lines of the different colors were a little
distinct so it wasn't a smooth transition from the lid color to the crease. This could be good or bad depending on what you are looking for. It almost sort of looks like a theatrical eye. I did apply my shadows with a heavier hand than usual to get a true comparison, and there's no question that the colors are very bright and colorful. It did last a very, very long time compared to my eye without the primer, including the Urban Decay. Typically when I use the Urban Decay glitter liners, they end up flaking off throughout the evening and decorating my cheeks and occasionally getting into my eye. That did not happen with the primer application on my right eye.
Below is a picture of my eye right before removing the makeup, almost six hours after application.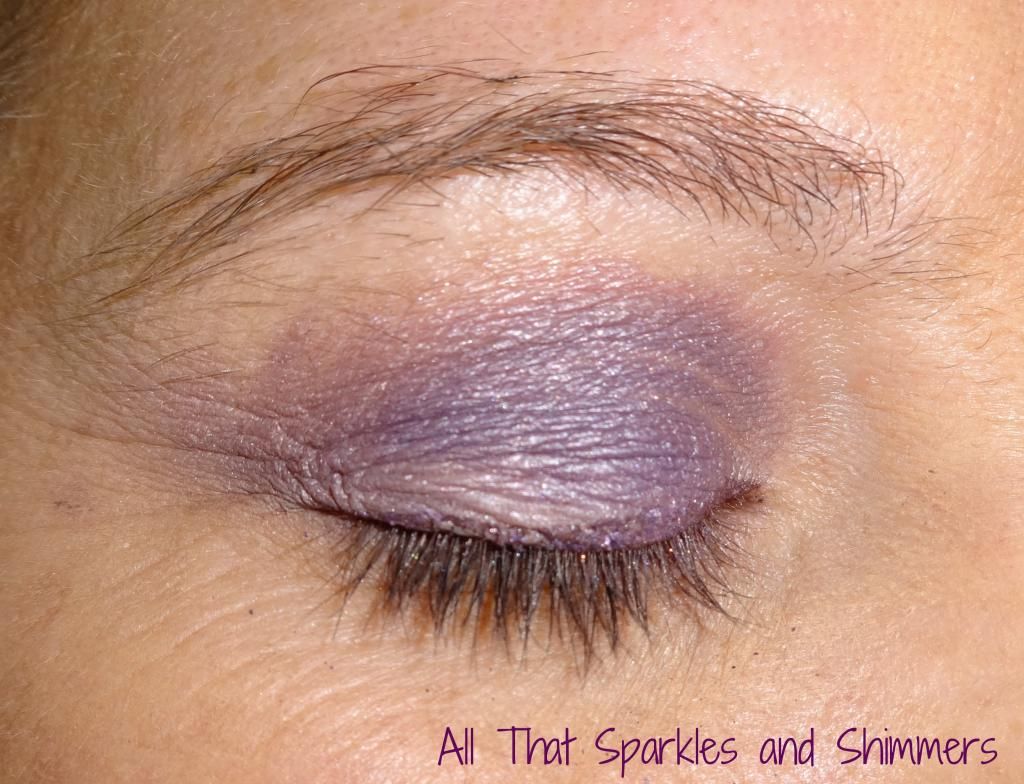 For me, the worst part about this primer was that I felt like it accentuated all of my wrinkles, and that's not a good thing for me at thirty-nine years old. On the eye with the primer, my lid area right above the crease almost looked...scaly like a dragon's tail. Not smooth and polished which is what I am used to expecting with my other primers. Who knows? Maybe I just need a good eye cream! My tried and trusty Prime Time Eyelid Primer by Bare Escentuals is almost double the price of this one and Too Faced Shadow Insurance is absolutely double the price, so if you are looking for a really inexpensive alternative and have issues with your eye makeup staying on, this might be a good option for you.
Will I use this again? Yes, but I will use less and will only cover the lid in the future to see if it makes a different. And as a matter of fact, as I was in the process of finishing this article, I decided to give this primer a second run, but applied a little less and stuck to the lids only. This time, I used green matte colors to see if that made a difference as opposed to the shimmery purples from above...specifically Velvet Emerald, Velvet Pistachio and For Real, with Urban Decay glitter eye liner in Mullet on top of the eyeliner.
The result? Much better with the smoothness and the colors did pop, same as the purple.
So ultimately...not a five-star product, but considering the price I got this for, it wasn't bad. I think I'll be adding eye cream to my regimen at night though.
Good luck in the sweepstakes and thank you for reading!