Since I graduated from college, I have had maybe one or two salon manicures, and they were both as part of a bridal party that was going to get manicures and pedicures as a group. I just don't care to have my natural fingernails worked on in a salon. Pedicures are a different story, but manicures, I actually enjoy doing myself. It is relaxing, it is fun and it helps me wind down at the end of a busy day before I settle in bed with a book.
However, part of what makes doing your own manicures fun is to have the right tools and to have them all together in one place. Nothing is more irritating than getting ready to sit down with a glass of wine or a cup of tea to start your nails and realizing that you are out of polish remover or running low on cotton balls or can't find your nail clippers.
Enter, the manicure basket.
Granted, this is such a simple concept, but ever since I really started my nail obsession, I have been asked several times for a list of the items in my basket.
Originally, I kept all my polishes and materials in a little three-drawer Sterilite box in my closet years ago but several years ago decided to create a manicure basket so that I could have something that was more mobile. Sometimes I do my nails at the dining room table where there is great light, but after I broke my foot earlier this year, I found myself doing my nails on the couch in my living room and on my bed in my bedroom. Sometimes I even do my nails in my home office while I am on conference calls or doing a webinar. My nail polishes are all stored in acrylic wall racks mounted on the wall of my office, so when it's nail time, I Just grab the colors that I want for my nails and my basket and I'm all ready to go. It also is very handy to have everything together in a basket for if you have a chip in your polish and need to make an emergency touch-up or snag a nail and need to trim and file. Lastly, if you ever have a nail night with your girlfriends where you plan on doing nails and girl time, a basket travels easily. Pick out your five favorite nail colors, throw them in a cosmetic bag, and you'll make your girlfriends very happy!
The first thing you will need is of course, the basket itself. It can be as small or as big as you like, but for me, a shoebox-sized one was the perfect size and I chose one that was lined with cotton fabric. You can get ones like mine at Bed Bath and Beyond or Babies R Us. I actually think mine was a leftover from a baby shower gift that came with baby supplies. If I were to replace mine now, I would get something like this that has handles to make it easier to carry.
Keep in mind that your nails will be most likely wet, tacky, or unpolished while you are working with this basket, so having things organized in a way that they are easy to grab without having to rummage through it is a good idea. You can use small plastic tumblers to group tools and files together, like pen cups, or plastic dividing baskets from Wal-Mart. I use a long thin basket for my top and base coats and two plastic tumblers, one for my tools and one for my lotions.
Here is the overall picture of my basket. Right now this basket is sitting on a dresser in my bedroom, but it floats around from my dining room table to my office to my living room couch. If you have little ones or puppies, keep it out of reach. Don't store this basket near any candles or heat sources as acetone and the chemicals used in some of the products are flammable. Please note that everything listed below is featured on the Pinterest page for our blog. If you click on the pictures, the links will take you directly to a source where you can purchase them if you so wish.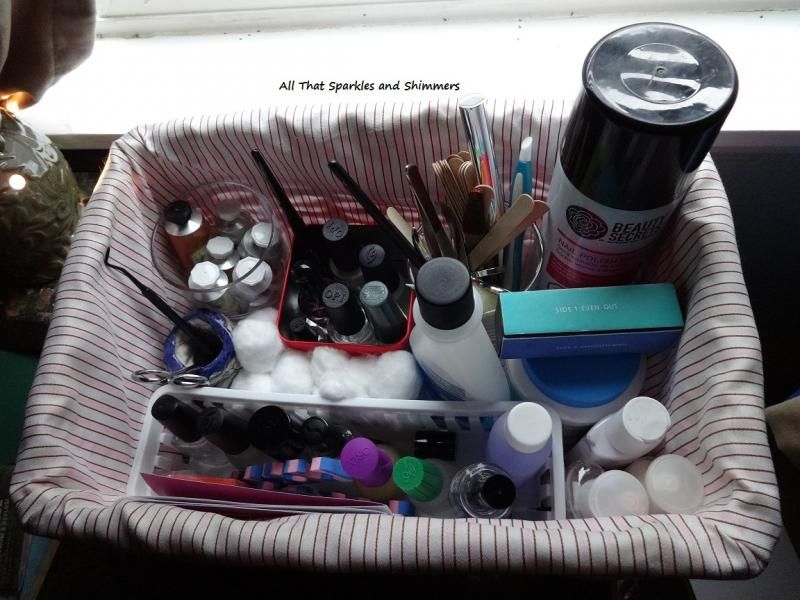 1) cotton balls (to remove polish)
2) bottle of acetone nail polish remover (If you are sensitive to acetone, they do make non-acetone remover.)
3) Dip-It nail polish remover (This is for removing glitter or flake top coats as it has a plastic scrubber inside the tub with bristles. However, be very careful as it is pure acetone, is highly flammable, and make sure to wash your hands and use lotion afterwards. My fingers usually are very dry after I use it.)
4) Zoya non-acetone polish remover
5) Q-tips (for clean-up)
6) long-handled eyeshadow brush (For clean-up; I dip the brush in remover and gently press it wherever I have blobbed lacquer to clean it up. Be careful not to press too hard though or the remover will run over your polished nail and make a mess. I prefer to use this over Q-tips, but it is personal preference.)
7) Julep Plie Wand for nail art and tips
8) Beauty Secrets Nail Polish Dryer
9) Zoya 3 in 1 Remove + nail polish remover
10) Julep buffer blocks
11) Sally Hansen gel cuticle remover
12) Julep Mighty Nail & Cuticle Serum
13) emery boards
14) Julep cuticle pusher
15) 4-way smoothing block
16) toe separators
17) Orly Matte Top Coat
18) So Easy For Rhinestones Only Top/Base Coat
19) China Glaze No-Chip Top Coat
20) Nail Magic Nail Hardener
21) Quimica Alemana
22) Seche Vite Dry Fast Top Coat
23) HK Girl Fast Drying & Super Shiny Clear Top Coat
24) China Glaze Strong Adhesion Base Coat
25) OPI Lay Down That Base
26) OPI Nail Envy Natural Nail Strengthener, Soft and Thin


27) OPI Ridge Filler




28) CND Air Dry Top Coat
29) American Classics Gelous Advanced Nail Gel Coat
30) OPI Matte Top Coat
Add a bottle of your favorite hand lotion and hand soap (no manicure is complete without clean, soft and delicious smelling hands) and you are all ready to go! Happy manicuring!