As a general rule, I don't care for eye pencils. A big part of it is because I wear gas permeable contact lenses which aren't very cooperative with pencils because if you get one that drags across your eyelid, you may end up with your contact lens shoved into the corner of your eye. I prefer eyeliners applied with a brush.
However, the only problem with the eyeliner in pots that are applied wet, dry or in gel format is that they are very difficult to put on when on the go. I have a very bad habit of being late quite often, and naturally when I am running late, the thing that gets chopped is makeup time, and I end up putting it on in the car. This is when eye pencils, sadly, are a necessity.
Fairly recently, ULTA had a promotion where if you spent a certain amount of money, you got a makeup kit in a little cosmetic bag. Who doesn't like free goodies? I certainly do! And ULTA cosmetics, while not the best out there, aren't bad at all for the cost. So this little collection came with a few of their shadow quads, a blush, lipstick, lip gloss, a mascara, a few other miscellaneous things, and...a dual-ended eye liner. I was rather excited about the eyeliner since one end was black and one end was brown, and for the most part, you can make one of those colors work with just about any combination of eye shadows. So I repacked my travel bag with the new ULTA goodies.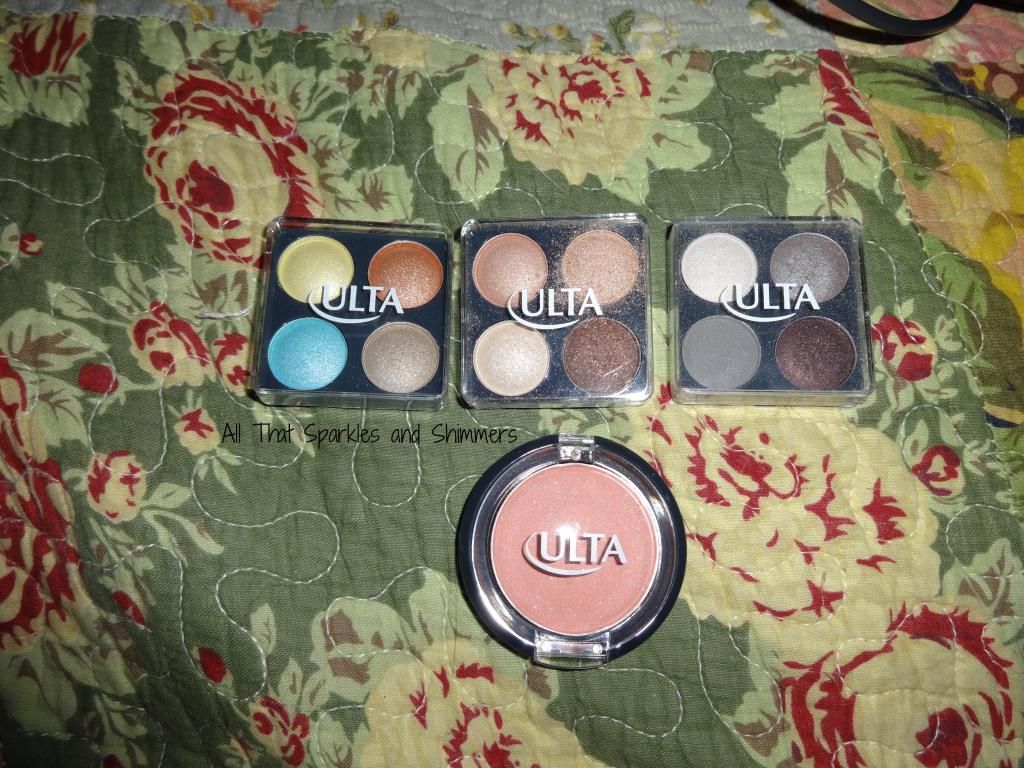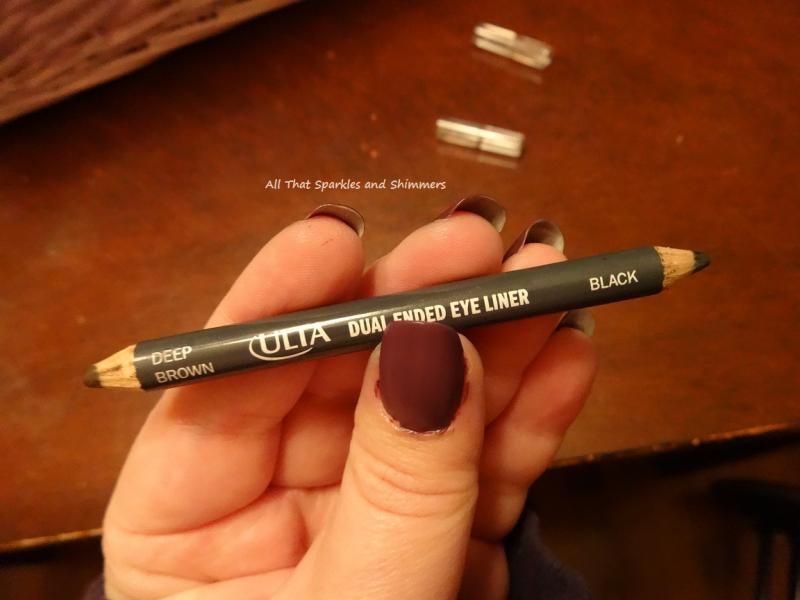 I used both ends of the eye pencil on two separate occasions. The first time I used it was the black end and it was pointy like it had just been sharpened. The second time was the brown end and I smashed it down a little to dull it before using so it would release more of the color. Both times were a negative. It just was too dry and chalky to be a good eyeliner. I tried using my fingertip to soften the line a little and that didn't work either. And since it didn't draw an even line, it just looked strange. I ended up getting it to work both days by using a shadow close to that color to fill in the spaces around the line, so at least I didn't look like a three-year-old playing with her mother's makeup. However, it's history...and I would not recommend ULTA eyeliner to anyone, even though it is frequently on sale. The drag is just too severe.
However, I am pleased with their eye shadow, blush and lip products. Bare Minerals will always be my die-hard favorite, but if you need some inexpensive products to throw in your purse or travel cosmetic bag, I would definitely say ULTA is a good choice, especially if you can hit them up during a sale.
Currently, ULTA does have their brand of cosmetics on sale. Go to their website to check out their ad, but from looking at the flyer I got, it appears that their single eye colors and cheek colors are $3 apiece and their complete eye shadow and brilliant eye shadows are $4 apiece, plus their other products are on sale as well. This sale runs through tomorrow, Sunday, May 11. Their new sale flyer was also just released, but I don't see the classic ULTA cosmetics on sale. However, the ULTA brands go on sale almost all the time...so if you haven't signed up for an ULTAmate rewards account, I would recommend it as they send out emails with coupons and flyers with coupons all the time, plus every purchase you make accumulates points that you can use towards beauty items.
From looking at their website, it does appear that the items that came in my promo bag were special items that aren't for resale; however, the classic items, the eyeliner, the blush, and the eyeshadow, are available on their website and in the stores.