Every polish diva I know has one or two brands that for whatever reason just don't work on their nails. For me, those brands are Revlon and China Glaze. Revlon, I said farewell to in high school...just too many nights of doing my nails with a fast-drying top coat and waking up to bedspread-printed nails. China Glaze is a little harder to let go....how can I with such delicious shades! But there were so many times when I would polish with CG and it would peel off in sheets...sometimes the whole nail in one sheet. I was determined to find a winning base and top coat combo. After I asked around a little bit to find out what worked well for other people, I finally hit the jackpot, and did I ever!!! On the recommendation of friends, I decided to try Quimica Alemana as my base coat and a very obscure brand, HK Girl, as my topper.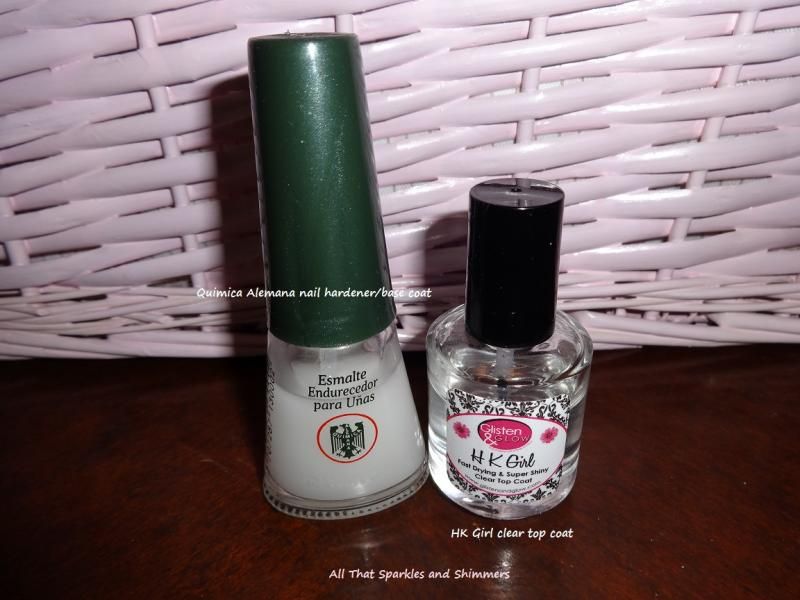 Quimica Alemana, to me, is heaven on earth for nails. You can almost feel your nail soaking up the moisture as you apply it. It is easily the best base coat that I have ever used. Before I tried this base coat, my nails were weak, yellow-tinged and in very poor condition. The edges were separating to the point where I could slide one nail between the layers and pull one layer off, which of course, weakens the nail and makes it more susceptible to breakage. Now, after using QA for approximately two months, my nails are in the best condition they have ever been in. There is no peeling, the beds are a nice healthy pink, and the top nail growth is a pale white. They are very strong and make a clacking noise when I tap them. But the best benefit of all is the smooth surface for painting that it makes after application. It dries very quickly and smoothes out all the little ridges and imperfections that naturally occur in the nail bed. The most common places to purchase this wonderful base coat are eBay and Amazon.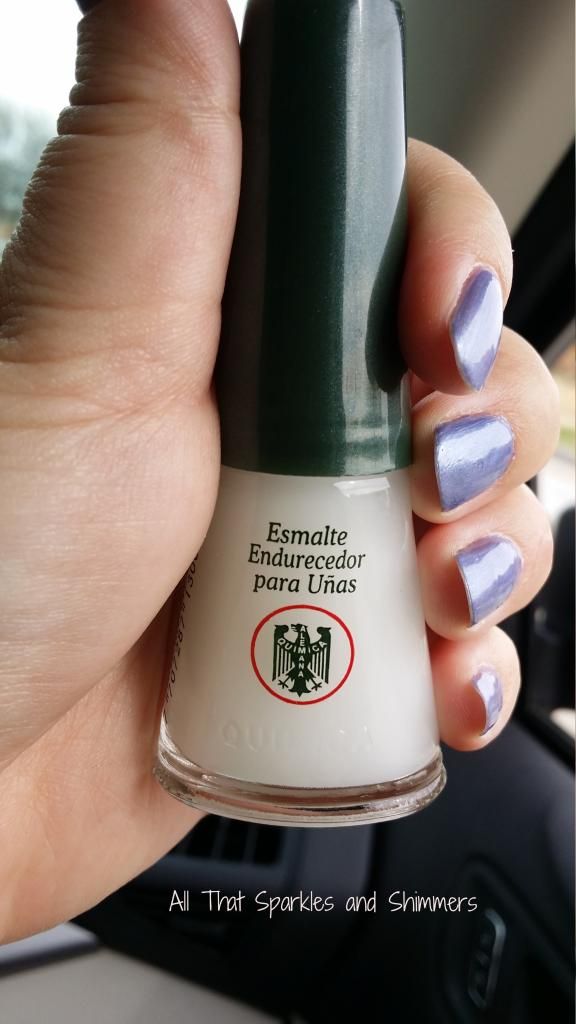 HK Girl is a perfect top coat. There are many, many top coats out there to choose from and I have tried a lot of them....OPI, CND, ULTA, China Glaze, but nothing that remotely comes close to the perfection that is HK Girl. Not only is it a very fast nail dryer, but it applies a crystal clear coat on the top of your finished nail that gives it glass-like appearance that lasts for days and that seals your manicure in for days. Other things I have noticed that it does as well are to fix oopsies. For example, last week I had just finished applying three coats of pale pink and two coats of Zoya's Monet cellophane glitter topper and then on accident, closed my laptop lid on my left thumb, leaving a small divot. Fortunately there was quite a few cellophane flecks in the dent to hide it, but after putting an extra layer of HK Girl on it, it was like it never happened. It is quite simply the best top coat I have ever used.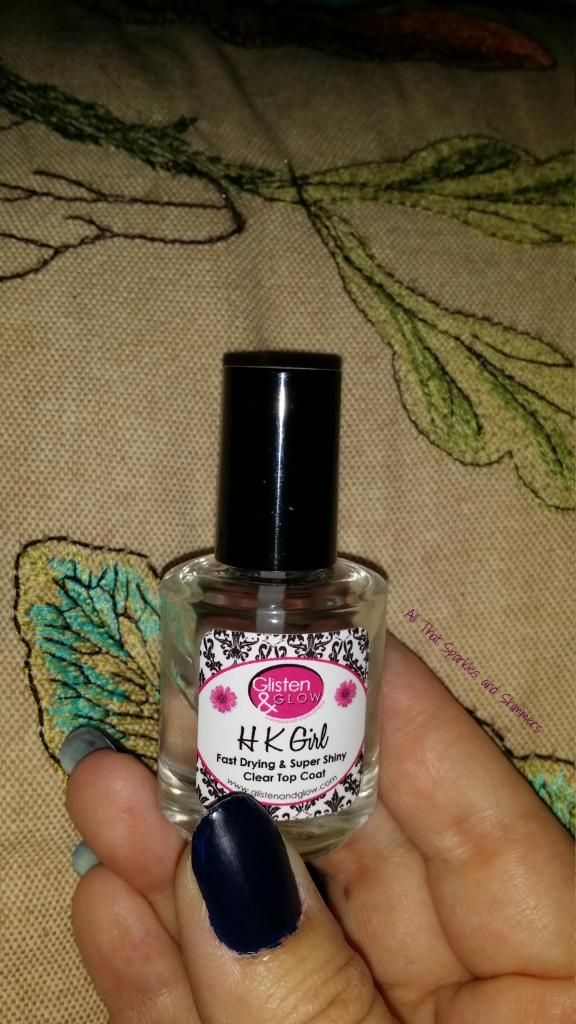 Using these two products in conjunction together is just perfect. It's the dream team for my fingernails. I have never been a woman to have rock hard fingernais in spite of the fact that my mother and my sister have always had great luck with fingernails. However, with using Quimica Alemana as my base coat and HK Girl as my top coat, I get a perfect manicure, every time, and it lasts for several days until I am ready for a polish change.
Both products are pinned on our Pinterest board; however, the best place to get Quimica Alemana is Amazon, especially if you are a Prime customer. It retails for approximately seven dollars and if you buy multiple bottles or go in with a friend, it can go lower than that.
Click here to buy Quimica Alemana
HK Girl can be ordered directly from Glisten and Glow for $6.99 plus shipping.
Click here to buy HK Girl