Prior to receiving Purple Velvet as a birthday gift from Tabatha, I was a complete matte finish newbie. I usually like my polish shiny and glossy, and the more sparkly the better! However, since matte finishes have really been the rage since last fall, I decided that I really needed to start trying this look to see if I like it as it really is a different look. It is a wonderful way to tone down some really bright polishes when you need to be on the ahem, more sedate side for events like job interviews, meetings, funerals, etcetera. I'm so intrigued by them now that I am working on an article to find the perfect matte top coat, so be on the lookout for that over the next few weeks.
Today, we are talking about Orly Purple Velvet, which is from Orly's Matte FX collection featuring Purple Velvet, Iron Butterfly, Pink Flakie Glitter Top Coat, and Green Flakie Glitter Top Coat. The first two are solid mattes that dry to a gloss-free matte finish while the latter two are to be used as matte top coats with sparkles in them.
This picture is courtesy of Orly.
Appearance
I was very pleased with the way that this polish looked. True to its description, it dried down to a perfectly matte finish with very little shine, and the color is a perfect plum purple with more red undertones than blue.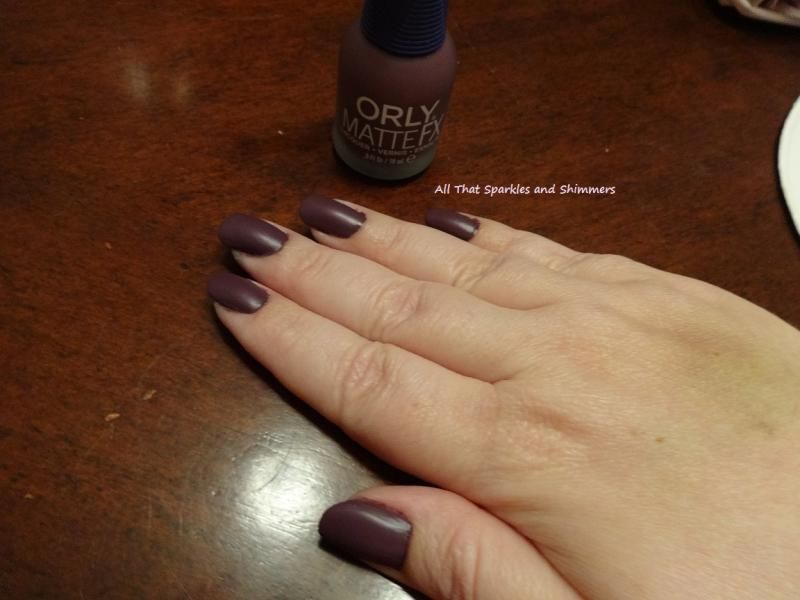 Application
The application was very smooth and creamy, and easy to manage. I used two coats for pure opacity.
Durability
The durability was not great, but that could have been due to user error as well. I was trying to apply Orly Matte Top over this to protect it since the thought of going top coat free to me is....strange. So I started with Quimica Alemana, two coats of Purple Velvet and one coat of Orly Matte Top. After I realized that topping a matte with a matte top coat didn't work, I applied two more coats of Purple Velvet. Needless to say, the next morning I woke up with track marks in my left index fingernail from falling asleep on my Kindle. Whether or not this is from six coats of polish on my fingernails with no dry-fast top coat or improper setting, I won't know until I use this polish again. I'll come back and update this entry when I do! However, the next morning I did notice tip wear on my left ring finger which did not make me happy.
Removal
Difficult, but again the difficulty could be due to the six coats. I initially tried wrapping my fingernails in acetone-soaked cotton and letting it sit for a minute, but it didn't remove all of the polish, so I eventually had to resort to using my dip-it container and rubbing the nail polish off on the brush.
You may be able to find this polish at Sally Beauty Supply or ULTA. It is of course available from Orly, which was the most expensive option. Depending on when you look, eBay is a great source. But the cheapest I found it was from Amazon.
To buy at Orly, click here.
To buy at Amazon, click here.
Happy Mother's Day to all the mothers that take the time out of their busy schedules to read our blog. This article is dedicated to my own mother, who I attribute my skills of nail painting to since she started letting me paint my own nails at eleven. Even though she refuses to read my blog since she's not going to get "sucked in to all that", I am proud of her though...she has a Facebook account, an iPhone and loves her Kindle.