I searched high and low, tried product after product, soaked and scrubbed my feet, filed them...you name it! My husband is just as particular about his feet as I am, and he purchased a product called Ped Egg. At first, I had heard things like "It doesn't work", "Don't waste your money", etcetera. I, on the other hand, give anything benefit of the doubt. I read the directions and if used correctly, it really does help.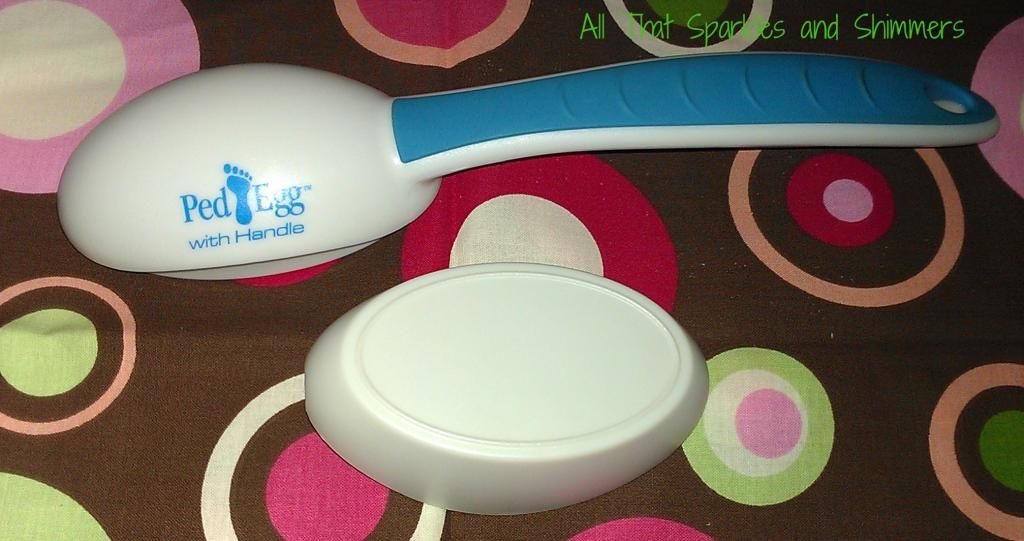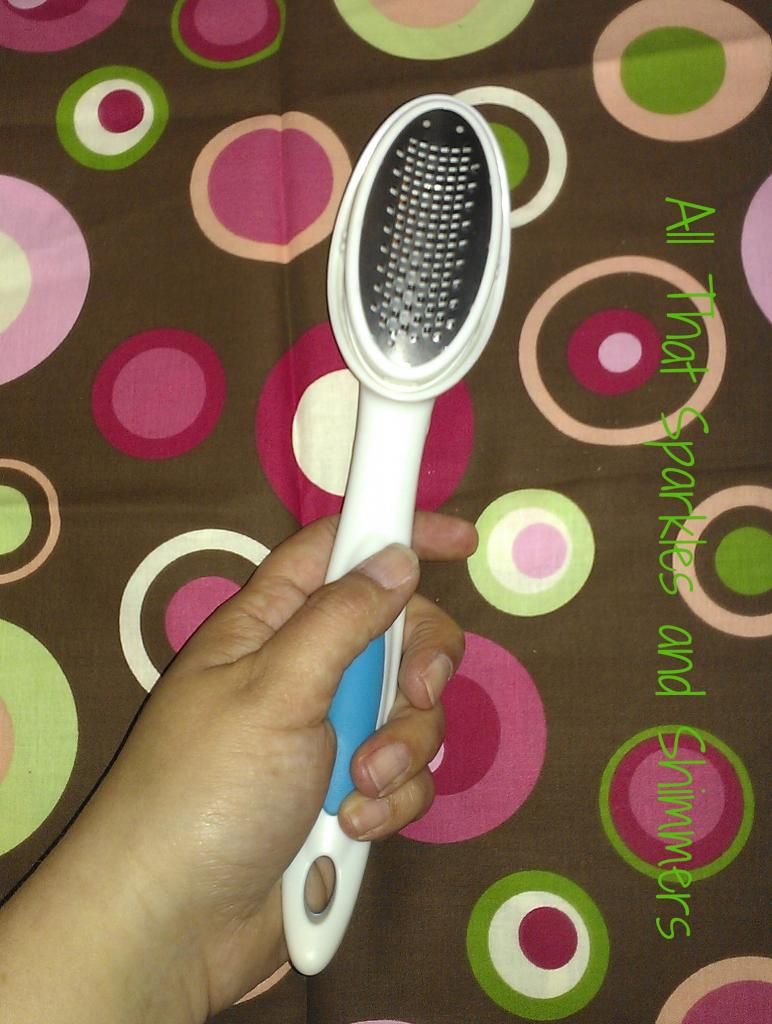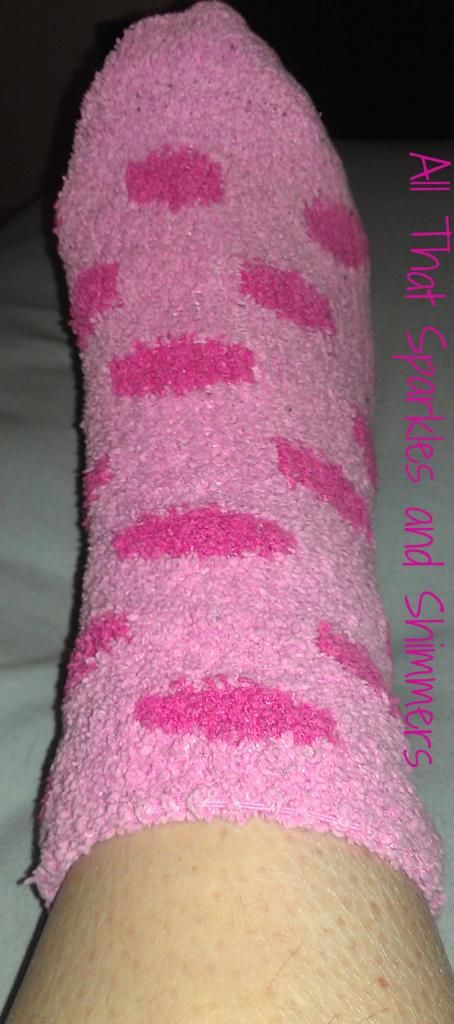 Most foot files, scrubs and products say to start with wet feet to get best results. The Ped Egg works on dry feet for best results. I like how it catches the dry skin I'm shaving off. It has a longer handle for an easier grip and a nice tight cap to cover the file that works on your foot. It's a fairly fast process; the entire time of filing the dead skin off my feet and applying the lotion was about
five minutes.
Once I've gotten my feet cleaned up, I then load on a thick lotion like Aquaphor.
It can be purchased at WalMart for approximately eight dollars and it lasts a very long time. I also suggest washing your hands after applying lotion as it does leave your hands covered in lotion.
I have a pair of thick sock-type slippers I put on my feet to catch the heat and soak
in the lotion.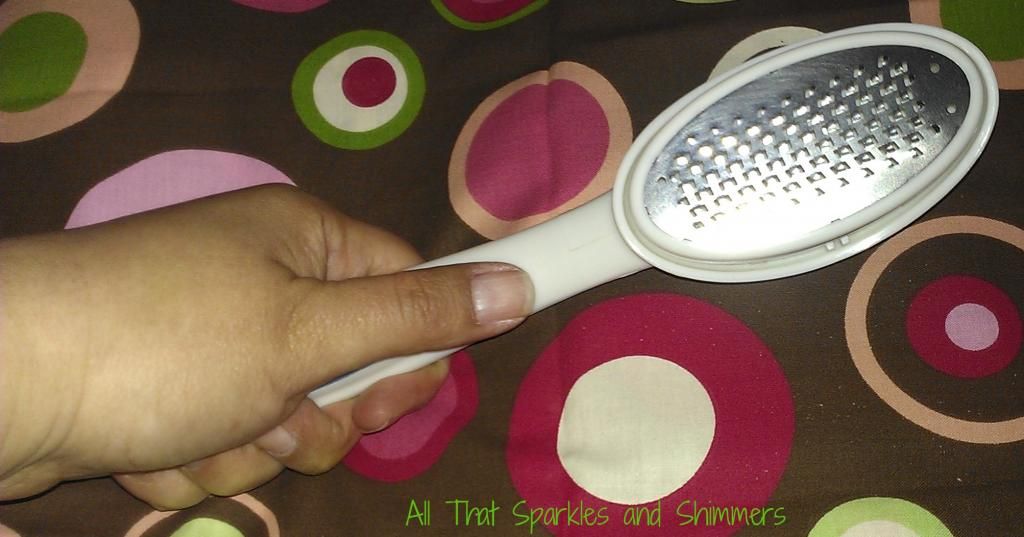 I have to repeat this process about once a week. I was thinking as I was writing this article that if I used the Ped Egg and O'Keeffe's for Healthy Feet (
reviewed here by Tabatha
)
, it would be a winning combo with my feet. With the sock and lotion process,
I usually do it hours before I go to bed and take the socks off and let them dry before bed. I
f you do this before going to bed, slippers are a must or the lotion will leave oil slicks on your sheets.
The photograph speaks for itself on the results!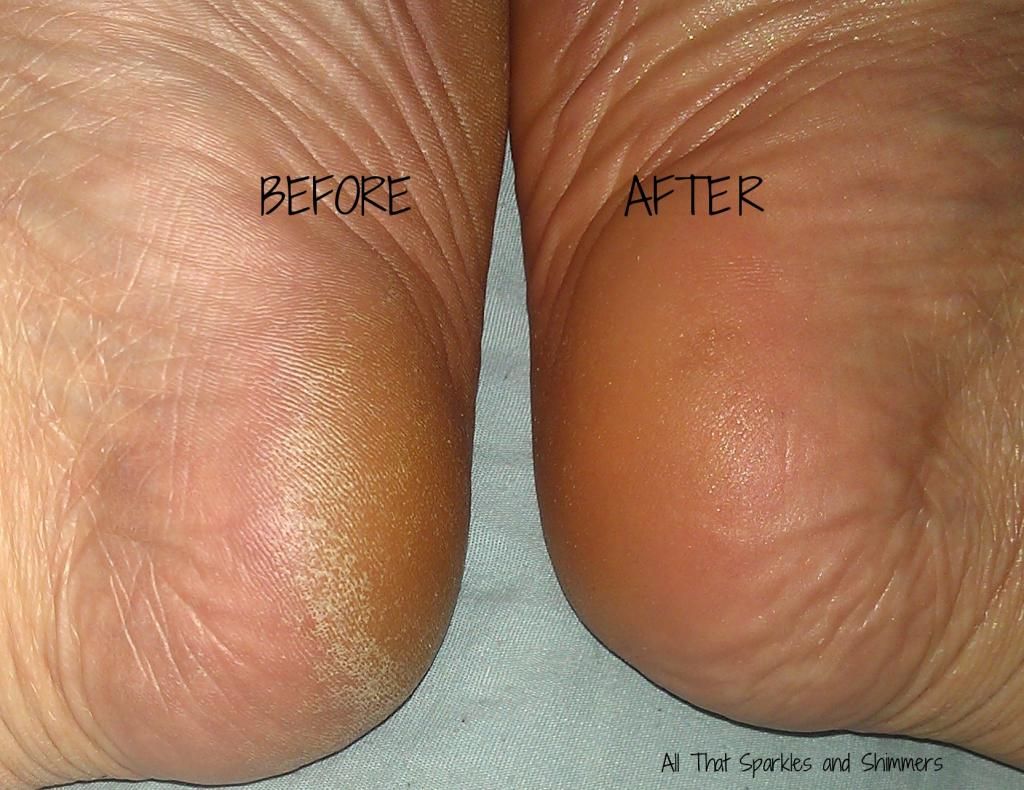 To compare products, I also purchased the Hoof Feet 3-Step Miracle Foot Tool, which is a
foot file combined with a razor, to see if that helped with the hard-to-get spots. I found this tool to be not as effective as the Ped Egg. The Hoof Feet tool was to be used in the shower with very wet feet.
What I liked about the Hoof Feet 3-Step Miracle Foot Tool:
The dead skin washes down the drain and you can get into those little spots near the toes or side of your feet. It didn't tickle my feet as much as the Ped Egg does, but I think that's because the feet are wet at the time of use. The foot does need a soak-in lotion like Aquaphor to rehydrate your feet after using this tool, which is when I noticed all the spots I missed that weren't as smooth as I thought they were in the shower. Filing them dry makes sure you get all those rough spots. If you can feel them when your feet are dry, you know you can correct that with a dry file.

What I did not like about this tool:
The ability to balance in the shower is impossible, which resulted in me having to sit down on the cold bathtub floor. This could be avoided with a stool or a tiled seat if your shower has one. Strike two: i

t took chunks of skin out of my foot and didn't smoothly run across my foot. The final strike is that the tool gets

clogged with dead skin, and needs to be taken apart and cleaned between each pass on my foot.
In the end I needed the Ped Egg to fix and smooth out what I missed from the Hoof Feet 3-Step Miracle Foot Tool.
I've never ever had a pedicure. I hear all the time that I'm missing out and it's the best thing since sliced bread. I get really squeamish with people touching my feet as it usually turns into feeling like I'm being tickled. I think the more I work on my feet to control that I can eventually move on to a professional!
What's your favorite tool? What have you found that works for you?
All items mentioned on this page are pinned to our blog's Pinterest board. The Ped Egg with the handle as featured on this page can be found at Walmart and Target but you can order it online here at Amazon as well as the Hoof Foot 3-Step Miracle Foot Tool if you want to give it a try. Aquaphor can be purchased virtually everywhere but you can order it online at Walmart. The socks are just normal fleece socks, but if you want the kind that have the special lining inside rather than putting on the lotion, Bath and Body Works has a selection of socks with shea-infused linings that will get the job done with no mess.
Note from Erica: On Twitter today, I came across a SheFinds drawing for Julep Trios. Apparently SheFinds has teamed up with Julep (one of my favorite polishes) to create seven limited edition polish trios, mostly for special events and things. They retail on Julep for $42, but if you enter this drawing, they will give you a coupon code to use to cut the price to $29 and you have a 1 in a 100 chance to win one of the trios. I am a Julep Maven so it was hard to find a trio where I didn't have one of the polishes, but I asked for Love At First Swipe in my entry. You can check out the trios and the colors close up at Julep; however, don't forget to enter the drawing here! I have no experience with SheFinds but I do have a predilection for free goodies, especially when it involves my favorite polish! EG