I bought this bottle as my first Essie when I was getting to know all the different brands and branching out from OPI. I bought an Essie, a Zoya, a butter London, and an Orly. This color, a rich powder blue, just really attracted me since I didn't have any blues like it. Blue is my favorite polish color family, and I saw it as being a fabulous base for glitter and special effect toppers. I'm not sorry that I bought it, but due to the difficulty I had with the application, I doubt I'll be buying any more Essies unless I see a color online that I'm dying to have based on the swatch, a fantastic sale, or a color that I can't find in any other brand. (Right now, the one Essie I am on the lookout for is Shine Of The Times, so let me know if you see it, yes?) The one thing I have noticed from looking at the Essie displays is that they seem to carry a lot more cream polishes in a huge variety of colors than some of the other brands, so if you are a cream polish fan, Essie might be a brand worth checking out for you. I do like to buy cream polishes as they look very classy for elegant events, they are great bases for glitter tops, and provide a great formula for matte top coats from what I can tell thus far. I also think this particular polish would work well in nail art. The color is absolutely gorgeous.
As it turns out, this color is the May Spotlight color for Essie, and as such, I found out that it was born in 1982. That's a long time for a shade to be around! It is described on the Essie website as "
daring meets darling in pretty yet provocative cornflower blue. this sparkling nail polish bares it all with a wink and a smile and no strings attached." More importantly, Essie is doing a Summer Beach Essentials Giveaway in the name of this pretty polish, so take a few minutes to go to the Essie website and enter the giveway. Again, who doesn't like free?
Appearance
It is a very pale creamy blue with almost a tinge of periwinkle in it...it reminds me of the afternoon sky in the east just as the sun is starting to go down in the west. I used Quimica Alemana as the base coat and HK Girl as the top coat. The glitter I used with this manicure was FingerPaints Copy Cat, which I will review in a later post. I am very pleased with the combination...it caught the eye of the cashier at Sally Beauty Supply which I consider a feat...those employees must see hundreds of nails every day!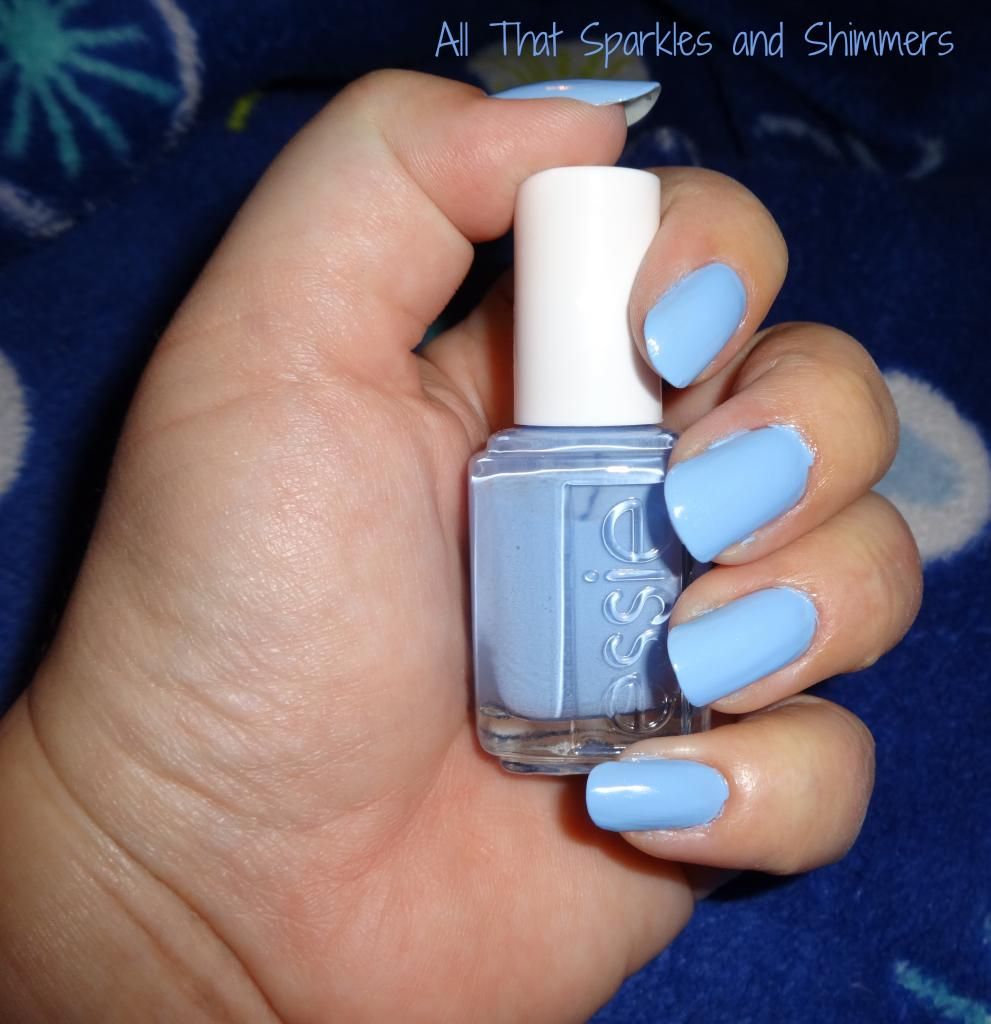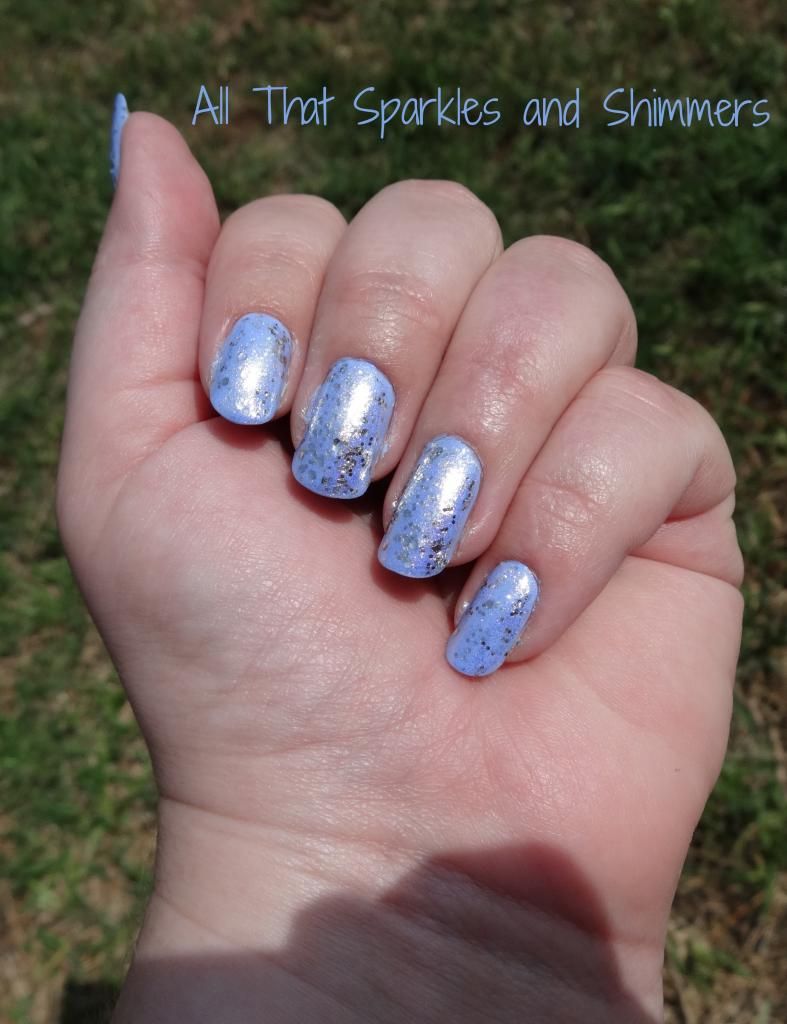 Application
It was very difficult to apply smoothly even after shaking the bottle well. This is the first time I have used it and the cap was on right. The first coat went on very streaky and was hard to get on smooth. The second coat smoothed out better, but unevenly as there were a lot of bald spots. The third coat went on better and was the key to smooth opacity. Two coats of polish may have been okay since I was planning on covering it with glitter, but I could see a lot of bald spots after the second coat. The shine is very pretty and a very glossy surface. The brush is perfect size for best application that needs minimal clean up.
Durability
I woke up the next morning to a dent on my right thumb...a few hours after dry to the touch. The glitter covered it well, and there were no chips or scratches or tip wear after three days, which is when I changed my polish.
Removal
Due to the amount of glitter and the total number of coats (a whopping seven), I anticipated a difficult time, especially since my Dip-It needs replacing. I used regular acetone remover from Walmart and cotton balls, and had everything off in less than ten minutes.
Essie is available at a number of local retailers. I have seen it at ULTA, Target, Wal Mart, CVS and Walgreen's. It's a widely carried brand. The cheapest place I could find this color online was Essie for $8.50; however, I purchased mine at ULTA with a coupon.
FingerPaints Nail Color, to my knowledge, is carried only at Sally Beauty Supply and right now, Copy Cat is on sale for $3.99. Quimica Alemana, HK Girl and the items used to remove polish are all featured on our Pinterest board.
Don't forget to enter the Essie giveaway!