Originally, I had started this article as a review of FingerPaints Copy Cat polish which is what I used to apply over Essie Bikini So Teeny. I decided about halfway through to turn it into a review of the source to go to in order to GET FingerPaints since, to my knowledge, you can't get FingerPaints anywhere else but at Sally Beauty Supply. I have no idea why it took me so long to start shopping there for nail stuff. There are two locations within ten minutes of my house and everything that they have that I have purchased there so far has proven to be very superior salon-quality items. Several of them have turned into staples in my manicure routine, such as the Blue Cross Cuticle Remover. About two weeks ago, I started realizing that everywhere on the internet I went whether it was Facebook forums discussing nail equipment or blogs reviewing nail polish, the answer every time was, "go to Sally Beauty Supply".
My first experience with Sally Beauty Supply was probably about a year ago when I worked all day in the field using my ladder and realized on the way home that I had broken one of my nails below the quick. As anyone that has done that knows, you can't just whip out your nail clippers and chop it off unless you want to be in a fair amount of pain. I didn't really know what to do. A year ago, I was a lot less knowledgeable about fingernail care and hygiene than I am now, and really had no clue what to do or where to go. For a moment, I thought about stopping at CVS to pick up Elmer's Glue and fixing the nail that way until it grew out enough to trim it and file it down. I stopped at ULTA first and asked them if they had any suggestions. The response was, "You can't repair a broken nail, but maybe Sally Beauty Supply will have some ideas?" Believe it or not, my closest Sally Beauty Supply and my closest ULTA are separated by about 100 feet of space, so I walked right down and walked in.
Call it sexist, but it always surprises me when I see a guy working at a store that is clearly geared towards females. I bought some Victoria's Secret nail polish last week and was rung up by a male employee. As luck would have it, there was a guy there who asked me if he could help. Not only was he pleasant and nice, he actually steered me to a product that he used when he broke a toenail once and needed something for the same purpose. He echoed what ULTA said about not being able to permanently fix it, but he was right on target with the product; it held my nail together for about a week, just long enough for it to grow out and be trimmed and filed. That product was Nail Magic Nail Hardener, which I have used on several occasions since when my nails look dry and brittle and in need of a little extra TLC. I wish now that I had known about Tabatha's repair method; that would have been perfect! But that was then, this is now!
You would think that I would keep going back after that but for some reason, the allure of the ULTA catalogs kept grabbing my attention and I kept going back there. But every time I would share what I bought with my friends, the response was always, "You could have gotten it cheaper at Sally."
My second visit, I had stopped into a Sally Beauty Supply one night to get nail dryer spray, and they were having a 2 polishes for the price of one sale. When I saw the FingerPaints display, my eye was immediately caught by the glitter. I am so attracted to all things sparkly and shiny; it's like a moth to a flame. I ended up being sucked in by Go Baroque!, Berry Good Bid, Peacock Portrait, Artist's Inspiration, Surreal Sunset and the beauty that I am going to review shortly here, Copy Cat. All links provided here are to Pinterest, but every one of this colors is available for purchase at Sally Beauty Supply.
Appearance
This glitter topper is absolutely as gorgeous on the nail as in the bottle. With the density of the glitter in the suspension, I think it would very possible to wear this one alone with a three-coat application. It is a combination glitter with tiny round pieces of glitter, micro glitter and larger pieces of hex glitter. The color mix is silver-hued gold...almost a platinum and white gold color. I applied two coats of it over Essie Bikini So Teeny, which I reviewed previously here, and the effect is almost celestial, like gold angel wings in the most beautiful summer sky.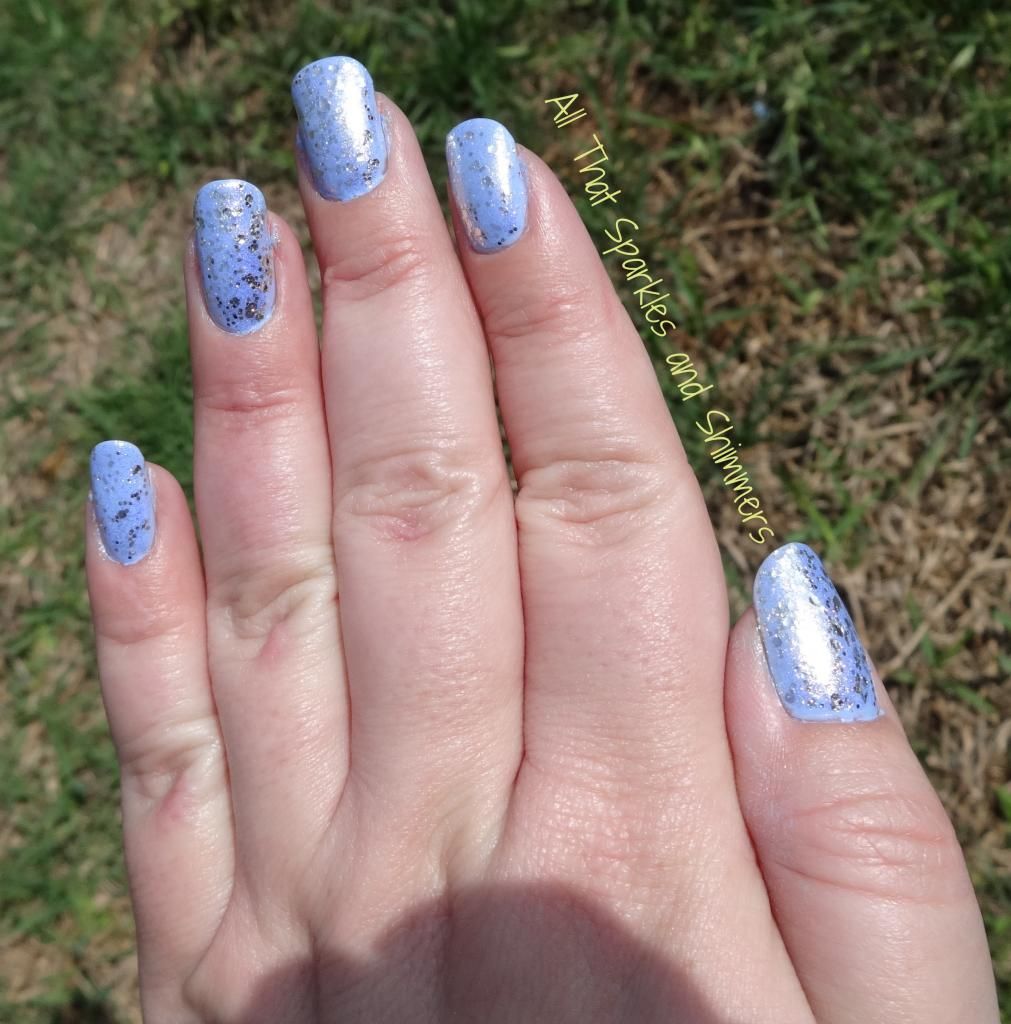 Application
Perfect and smooth. It spreads very evenly across the nail without having to repeatedly dip the brush in the bottle to pick up more glitter. The suspension is easy to work with and the glitter spreads across the nail evenly and smoothly with no clumps or streaks.
Durability
I wore this mani for three days and had no chips, peels or tip wear. Very impressive, especially given the price. FingerPaints retails for regular price at Sally Beauty Supply for $5.29, and is frequently on sale.
Due to the amount of glitter and the total number of coats (7), I anticipated a difficult time, especially since my Dip-It needed replacement at the time. I used regular acetone remover from Target and cotton balls, and had everything off in less than ten minutes.
I honestly had the same experience with Berry Good Bid, which is the only one of my other FingerPaints that I have tried. It went on smooth, wore like iron, and with the exception of a little staining which I expected with a rich dark color like this, came off fairly easily.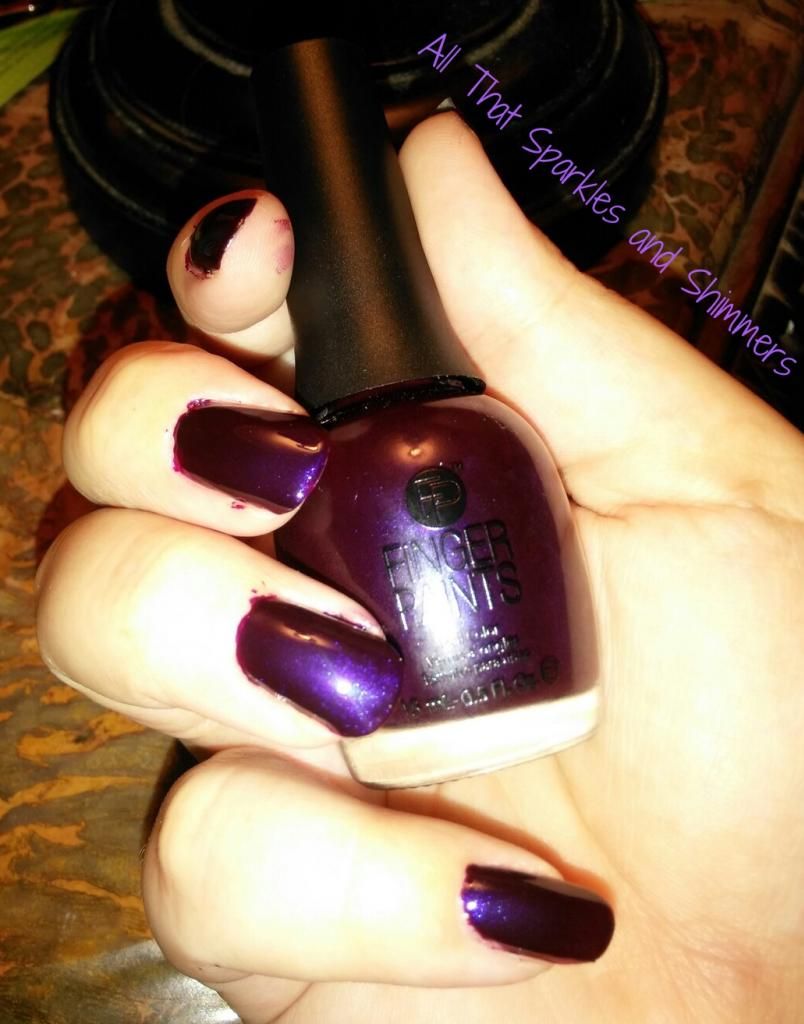 Now, back to FingerPaints and Sally Beauty Supply...being the interested nail polish diva that I am, I did a little research on the origin of FingerPaints because I have never seen this polish sold anywhere but. And it's a mystery! I can't find anything on the history of FingerPaints or anything on where it is sold other than Sally Beauty Supply. The reviews are mixed; you have some people saying that it is fantastic and wears like iron and then others that say that they are not impressed, that it is goopy in the bottle and that the colors don't match the bottle. Besides Copy Cat, I have only tried Berry Good Bid and the same experience with it that I did with Copy Cat, so my suggestion would be to get a bottle, try it and see for yourself. The names are a lot of fun as they all incorporate the art medium into their names, such as
Expressionist Red
and
Where Art Renoir?
My third visit to Sally Beauty Supply, I closed the deal and bought a Beauty Club Member card, which gives you discounts on every product you buy and coupons galore. In fact, when you buy the card for $5, they immediately give you a $5 coupon to use on any purchase making your membership essentially free. Prior to going to the store, I had made a list of things that I needed with the exact names of the items...things like files that had been recommended to me, the Blue Cross cuticle remover, etcetera. The website will tell you if the item that you want is available in-store or not. When I went to shop, the lady that assisted me knew exactly where everything was, and when I got to the check-out, I applied for my card which I was able to use on that purchase, and I got my coupons on my receipts.
Tonight I went back to use my $5 coupon and to check out their nail art selection which was also very impressive. I picked up a dotting tool set and a rhinestone picker upper tool. As always, the employees were very courteous and polite. I don't know if they do this or not on purpose, but every time I talk to one of the employees they either make a comment about how much they enjoy the hobby of nail polishing/nail art or compliment me on my manicure. For a small store, it is nice and it makes you want to go back when the employees are polite.
And finally, the last and final icing on the cake IF you happen to live in a place that doesn't have a Sally Beauty Supply close by? Free shipping up to $50. All the time! No coupon code. No minimum purchase. No date restrictions! How about that? So if you just need a nail file? Free shipping. Need four OPI polishes that you can't find anywhere else? Free shipping. They even have some reduced rates on shipping to Canada, Puerto Rico, Alaska and Hawaii. I am an avid internet shopper and I can tell you from personal experience that it is a very rare merchant indeed that offers free shipping all the time.
My one and only complaint about Sally Beauty Supply (well, I have two) is that you can't use your coupons on OPI, and the only major brands of polish that they carry besides the above-mentioned FingerPaints are Orly, OPI, China Glaze and Nina Ultra Pro. No Zoya, no Nicole by OPI, no Essie. And, for those of you that think that Sally Beauty Supply and Sally Hansen Nail Polish are one and the same, that is not true....there are no Sally Hansen products on their website and none that I saw in the store.
So there you have it! I have no affiliation with Sally Beauty Supply other than being a satisfied customer and a recent card-carrying Beauty Card Member. Women like me that do their own natural nails at home have a lot of choices when it comes to outfitting their nail stash with the proper equipment to be able to do a salon-quality manicure, such as Target, Walmart, Walgreen's, CVS, ULTA and Sephora, not to mention many, many more retailers. But if you are looking for good solid equipment that isn't going to break your wallet and that actually works, give this little store (or the website) a try.
I think, like me, you will find that you are very, very surprised.