OPI's most popular shade of red and best-selling nail lacquer of all time is "I'm Not Really A Waitress". According to the research I did, it was named after a server at a wedding spilled champane on OPI Executive Vice-President Suzi Weiss-Ficshmann and apologized by commenting, "I'm not really a waitress." I really love it when polishes have a story behind them like this one. This particular shade of red is timeless; it is seen over and over again in old movies, commercials, television shows, and photographs because it just appeals to everyone, male and female alike. Women will feel glamorous wearing it and men will find it sexy in a Marilyn Monroe way. It was released in 1999 as part of the OPI Fall Hollywood collection.
Before I finally broke down and bought this, I had to see it on several people's nails several times and see it come up again and again in blogs and nail polish searches as I was shopping the web. Every store OPI display I peruse has it as well. I finally just had to get it in spite of my wonders if I really need another red since I have quite a few already. My husband's favorite nail polish color on me is red, so I figured one more wouldn't hurt. When I applied it, I topped it with OPI Gettin' Miss Piggy With It for an extra sparkle.
Gettin' Miss Piggy With It is also an interesting OPI specimen as it is part of the Muppets collection of glitters that was released in 2011.
This red is incredible and if you are a red polish fan, it's really a must-have for your collection. I would describe it as a cross between a shimmer and a metallic as it has a very subtle gleam that is picked up clearly under artificial light and in the daylight. It has a very pretty cherry tone to it which to me puts it in the cool family...it would work great for holidays, Valentine's Day, and would work well with any black, blue, purple or pink outfits.
The glitter top I used, Gettin' Miss Piggy With It, is a perfect topper for this polish. It is a b

right red microglitter with hex silver and red glitter. The suspension is clear, so it does not take away from the perfection of INRAW (the short name for OPI's most popular lacquer).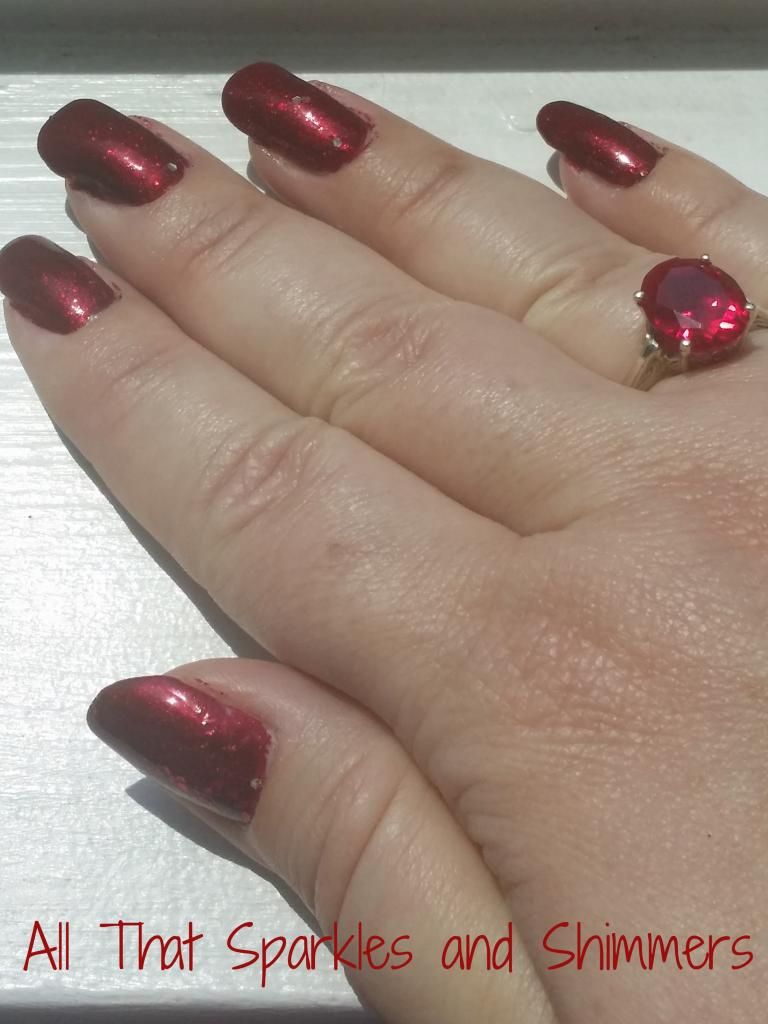 The application is very, very smooth and goes on nicely although it dries really fast on the first coat. For the optimum coverage, you really need two coats to get that nice thick color and exceptional gleam. The glitter topper spread perfectly without having to dig for glitter and one coat was sufficient.